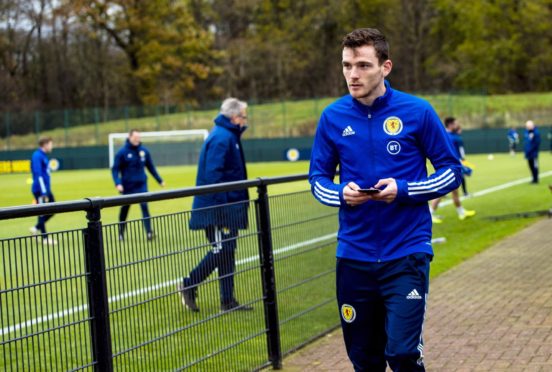 Scotland captain Andy Robertson believes it is time to be selfish for the first time in his career by using his head rather than his heart after making the decision to sit out Scotland's Euro 2020 qualifiers against Cyprus and Kazakhstan.
A niggling ankle injury has restricted the Liverpool left back's game time in recent weeks and his involvement in Sunday's 3-1 win against Manchester City in the Premier League has made it worse, prompting the Scot to miss the final games of the campaign.
He said: "I've had to be selfish for the first time in my career and let my body rest. I've had to listen to the people around me when previously I would have told them to beat it and the fact my ankle has swollen up again has made it easier to miss these games.
"It's a big disappointment for me. I don't care what game it is, I want to play it and my track record in the last five years has shown that.
"But for the last two and a half weeks I've not trained at all for Liverpool. I've trained the day before a game, missed a Champions League game other than the last 15 minutes and missed Arsenal in the League Cup and it's a niggling injury which won't go away unless I give it time.
"If you know Liverpool and our schedule we don't have time and after suffering another knock against Man City on Sunday it has gotten worse and I don't want to pick up more injuries and ruin my season because of it.
"For me, when I look back at my career so far I've played games I probably shouldn't have due to injuries and I've maybe been lucky not to make it worse. I am paid to play football and love playing football but if I keep playing this ankle is going to get worse and I will be no use to anyone sitting on a treatment table."
Despite being unavailable for selection for Steve Clarke, the Scotland captain has remained with the squad in Edinburgh and will continue to be part of the group until his team-mates fly out to Cyprus on Friday.
Robertson's anguish at missing out was clear yesterday but he knows the important games which require his participation lie ahead in March when Scotland play their Uefa Nations League semi-final.
He said: "It hurts as captain to miss out. I know a lot has been said about these two games being meaningless but we don't believe that.
"We feel a page was turned against San Marino and we can start being more positive. I wanted to be part of that and drive us forward in these two games so we finish as high up the table as possible.
"We have two vital games in March and these next games are important for that which is why I wanted to be involved.
"The manager here knew I was a doubt due to the concerns of my club but I told him I would be up with the lads before the team flies out to Cyprus.
"I wish them all the best for the game but unfortunately I'll be watching from home."