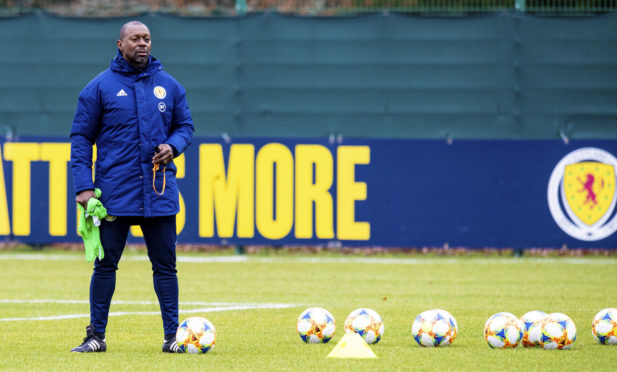 Alex Dyer has worked in football long enough not to take a player's withdrawal from a squad personally.
Perhaps it is just as well as he settles into life as assistant manager with the Scottish national team.
Yesterday, captain Andy Robertson led the list of withdrawals from the squad for the final games of the Euro 2020 qualifying campaign against Cyprus and Kazakhstan.
Robertson is joined by former Dons player Ryan Fraser, Scott McTominay and Liam Cooper in pulling out, but Dyer does not dwell on the reasons.
He said: "It is not personal. It is never going to be personal, it is football.
"You pick it and if they don't want to be here or are injured then push them aside and take the ones that are here.
"There is no time for messing around. If there are lads who don't want to be here that is fair enough.
"But lads who want to be here are the ones we have to deal with and make sure we focus on. We make sure they are ready to go for the games.
"They are good lads and trained well this morning.
"Everyone was at it and you just pick a team out of the lads that are here.
"With Scotland between camps we have a meeting between the gaffer and the squad and we put down who we think is going to be in the squad.
"But we also know that some of these might pull out – that is just international football."
The politics of club versus country is an issue Dyer has no interest in debating. His focus is on finishing a disappointing campaign on a positive note and ensuring the squad is ready for the Nations League semi-final in March next year with a degree of confidence.
Heavy defeats to Russia and Belgium have battered Scottish pride but a morale-boosting win against San Marino last month has helped stop the rot.
Dyer wants to continue the trend by building momentum for March.
He said: "It is a big opportunity for us to be in the play-offs and we want to be in a championship.
"That is our focus and our main aim. Apart from that we have two games beforehand which we want to do well in.
"We want to finish this campaign well. The next two games are so important for the lads that are here."
Those who are absent will not be discarded in 2020 but Dyer believes an opportunity to impress has presented itself for the players who are in the squad, including late call-ups Graeme Shinnie, Lewis Morgan and Ryan Porteous, who joined the team yesterday as replacements.
Dyer said: "It is important that these boys know if they do well now they are in the box seat to keep positions in March.
"If they come in and do well now it gives them a better chance.
"However, there are still three months and Steve (Clarke) has to pick the players he trusts and the players that are on form."
Morgan's selection has come as a surprise given his lack of game time at Celtic but Dyer said: "It is all about standards and who is good.
"Just because you are not playing for your club does not mean you are a bad player.
"It just means that the club has better players or the manager is picking players he trusts maybe more. It doesn't mean Lewis is not a good player, because he is.
"We have seen him work in the first camp he was here and he trained and played well.
"Lewis is a good lad and plays well for the 21s and we are glad he is here.
"We just don't pick one out of the hat. We look at it and know what he can do and he is here.
"I know the boy is buzzing and is glad to be here and that is all you want."