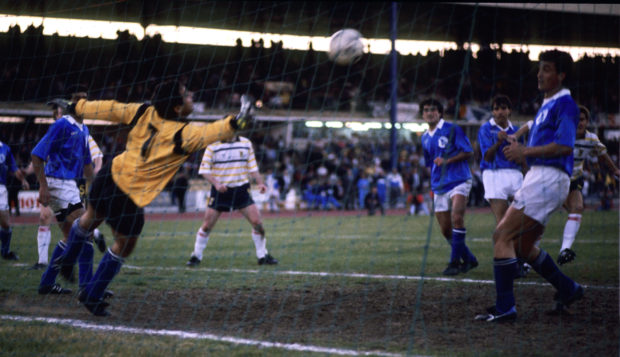 Craig Brown needs no reminder of just how difficult an afternoon Scotland face in Nicosia today.
Steve Clarke's side face Cyprus in their final away game of a disappointing 2020 European championship qualifying campaign bidding to win on the road for the first time since Clarke replaced Alex McLeish.
Former national team boss Brown was assistant to Andy Roxburgh when Scotland came from 2-1 down to beat Cyprus 3-2 in Nicosia in a World Cup qualifier in February 1989 – thanks to Richard Gough's late double.
Gough's winner came in the sixth minute of stoppage time and was regarded as one which spared Scotland's blushes. But Brown disagrees.
He said: "Cyprus away is not a walkover for any team whether it is club football or international matches. In fact, very few away international matches are routine.
"Richard Gough was hailed as the hero for his injury-time winner in 1989 but Andy Roxburgh's role should not be overlooked either. The time-wasting that went on was unbelievable and he spoke to the fourth official and the Uefa delegate about it at the interval.
"I don't know whether it contributed to seven minutes of stoppage time being played at the end of the game but I made a point of telling the players in the dressing-room after the game while Andy was doing his media duties that they owed him a debt.
"Stevie Nicol teased me about what I said in his book when he asked where the recognition of the players' comeback was. We laugh about it now but certainly the delivery from Roy Aitken's free kick was excellent, as was Richard Gough's outstanding header to win us the game."
Brown, the last man to take Scotland to the finals of a major tournament in France 1998, does not expect the task to be any easier for Clarke today.
He added: "We saw from the earlier game at Hampden that they are no mugs and they will be even stronger at home.
"They are shrewd and clever and if the team we had in 1989 – which on paper is a stronger side than the one in Cyprus for this game – can struggle then so can Steve's side. That's why if Scotland can claim a win there it will be a very satisfactory result in the circumstances."
Clarke hopes to use today's match and Scotland's final game of the campaign against Kazakhstan at Hampden on Tuesday to build some momentum ahead of the Nations League semi-final in March.
Qualification for next summer's finals would be a huge achievement.
Brown believes qualification remains as difficult for any Scotland boss as it ever has been for those who have come after him since he stepped down in 2001.
He said: "It's tough as the game has changed drastically in the last 30 years.
"It has changed to the point where Scottish players are in the minority at top clubs in our own country. When I was coaching we could field a team of Scots from the two Old Firm clubs alone. We often played an Old Firm combined team in training against the other players in the squad during our sessions.
"Today only a handful of Scottish players represent the leading clubs."