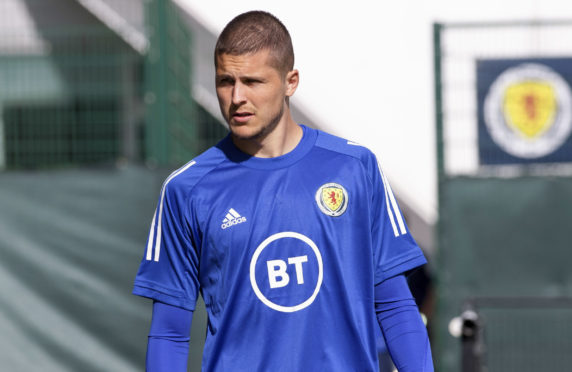 In the end, there was little doubt where Lyndon Dykes wanted to nail his colours.
His Scottish parentage and fond memories of trips in his youth to Dumfries, allied with the fact he was given the opportunity to play professional football in this country, provided him with all the persuasion he needed.
Dykes put an end to months of speculation last week in declaring for Scotland over Australia, where he was born. The withdrawal of Oli McBurnie and Lawrence Shankland from the squad for the double-header against Israel and Czech Republic means he is likely to earn his first cap this week.
Lengthy conversations with national team boss Steve Clarke made clear what his role would be but even with a variety of outside influences, the ultimate decision came down to Dykes himself.
He said: "Scotland gave me a chance in my career, really. Without this country, I wouldn't be where I am in football. So that was a major thing in my head. From the get-go, I wanted to play for Scotland.
"Obviously I spoke with Graham Arnold (Australia head coach) and Rene Meulensteen – they were always great with me. But, in the end, speaking with Steve Clarke here, he knows what we spoke about before lockdown, he knows how I reached my decision.
"I'm just ready to get my head down, work hard and win games. A lot of people would have said that Australia was the easy route.
"But, with the squad that they have here in Scotland and the boys coming through, as well, it's only a matter of time before we get back to where we should be. My job is to do my best and push Scotland on further."
The 24-year-old has had a memorable month. Prior to stating his international allegiance, he had also completed a £2 million move from Livingston to Queens Park Rangers.
Scotland has and will continue to play a big part in his life. He holidayed regularly in Scotland as a youngster growing up on the Gold Coast and when he returned to Dumfries in 2016, it made sense he would play for the town's senior side Queen of the South.
His parents were understandably delighted at his decision to declare for Scotland, ahead of what is a crucial period for the national team.
Dykes added: "In the end, it was my own decision. But, after speaking to the manager and backroom staff here, I told them – and they were over the moon.
"They were both born in Scotland, I've got Scottish blood in me and, yeah, they were chuffed for me. So was my wife and my kids.
"Obviously I came for a few holidays when I was younger, with my dad. It was a small village, Moniaive, and I remember it snowing down. My favourite memory was smelling all the chimneys in the town, something that always stuck in my head.
"I had a Scotland kit when I was young, even though my dad was never a major football person, so I didn't watch a lot of games when I was little. But I've always had friends who are Scottish and English, I played with a lot of people in Australia who had moved there from Scotland.
"So I was always in that environment where half of them were Celtic fans and the other half were Rangers fans. I always knew what was going on. The Scottish blood is in me."