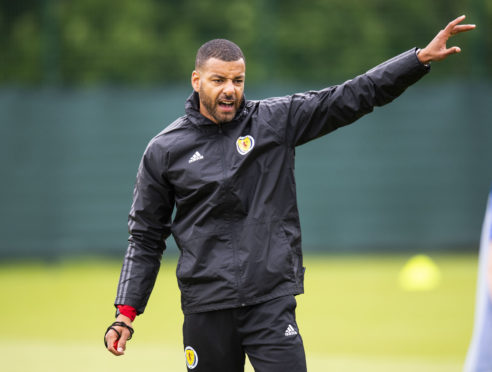 Scotland coach Steven Reid hopes the national team can put smiles on the country's faces again.
It has been a difficult year to process, given the Covid-19 pandemic and its vast disruption on life as we know it.
There have been few positives to cling to during that time and from a sporting perspective, the public is deprived of seeing games in person due to health restrictions.
That puts an emphasis, for Reid, on Scotland being able to deliver some much-needed cheer, starting with the Israel game on Friday night.
He said: "If we look back a few months ago this training camp and the big games we have coming up must have seemed like a million miles away. It was probably the last thing on people's minds. But the restart has now begun and we are finally back together and looking at two crucial big games coming up and then the play-off game to look forward to in the next camp, which should have been in March ahead of the Euros this summer.
"But it's just one of those things. Everyone has had their own difficulties and issues this year — not just on a football pitch but with people's heath. But hopefully we can give everyone a lift with this. It's going to be a shame the fans are not allowed in but we know that the country is going to be behind the players."
"I was lucky enough to get to a couple of the games on the media side down south after the restart. So I saw pretty quickly all the protocols and systems in place and they were fantastic.
"It's carried on up here. All the lads who have got going sooner in Scotland are up to speed but all of them in general deal with it easily. Footballers have a knack of just getting on with it when things are put in place."
The national team has a few new faces in it, with Reid speaking glowingly about Lyndon Dykes who opted to represent Scotland over Australia.
There is also a new addition to the coaching staff as well, with former Newcastle United assistant boss John Carver stepping to replace Alex Dyer, who has chosen to focus on domestic duties with Kilmarnock.
Reid added: "Obviously, it's a shame that Alex has decided to focus his attention on club football and Kilmarnock at the minutes, and he will be a miss, but John is more than able to come in and support and for me to learn off as well.
"As a younger coach it will be great to get his help and advice on certain things as well and it is obviously useful that he has a great relationship with the gaffer and knows how he works and thinks and challenge him if needs be."