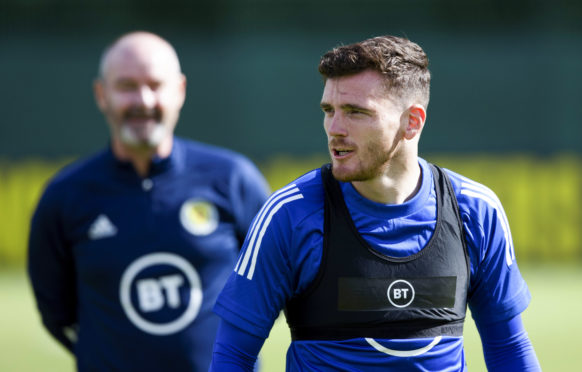 Scotland captain Andy Robertson is aware this could be a defining three months for this group of international players.
The national side will face at least seven games in the next three months and will hope to make it eight, by making the final of the play-offs for the European Championship.
After zero international games since November last year fixtures will be coming on a conveyor belt for Steve Clarke and his squad.
They start with the next iteration of the Nations League tonight, taking on Israel and then the Czech Republic on Monday. They face Israel again next month in the play-off semi-final, before two home Nations League games against Slovakia and the Czechs.
Should Scotland see off Israel at Hampden next month, they will face either Serbia or Norway away from home on November 12, for a place at the delayed Euros. The highs or lows of that potential result would have little time to sink in, given their final two Nations League games away to Slovakia and Israel – the fifth time in three years they will have played – on November 15 and 18 respectively.
Come through this glut of games and it could be the making of this latest crop of Scotland players.
"It's fair to say that," said Robertson. "We have a semi-final and hopefully a final in those ten weeks. It's well-documented that it's now 22 years of not qualifying for a tournament. We are the next squad who can try to put that right. We are two games away from doing that and we know it's hard task in front of us."
"But it can make this squad. It can give us so much confidence going into the Euros if we can qualify. Whatever happens we will learn from it and that's important. But it could be a big ten weeks and we play to make it that."
Scotland will have Kieran Tierney at their disposal for the first time under Steve Clarke and while Robertson speaks glowingly of his talents, both he and the Arsenal full-back are tired of the comparisons made between them.
"We've both spoken about it before, I think we are both fed up hearing the comparisons between us. We both get on great, both on and off the pitch," he added.
"There is no real comparison. Look, we play in the same position, but we play at different clubs and previous managers have found a way to get us both in the team. It's up to this manager whether he decides to do that or not.
"It gets a bit wearing on both of us to be compared all the time, we're fortunate to both be playing at big clubs and that's the way we look at it."
Robertson will lead Scotland out at Hampden tonight with no fans in the stands, with Uefa ruling these games would take place behind-closed-doors.
There is hope for some spectators at games later in the year and Liverpool's Robertson, who experienced empty grounds during the Premier League's return over the summer, knows the current situation is far from ideal.
"It's rubbish, there's no getting around that," he said. "We're in the entertainment business, we want to entertain people and have fans willing us on, celebrating goals and everything that goes along with it.
"There's bigger matters in the world right now but if fans can get into grounds safely then I think we should be pushing to do that because it doesn't compare. Whether that's at Liverpool or whether it's with Scotland.
"We're there to play in front of fans, we thrive under that pressure, and it's about trying to get that back as quickly and as safely as possible. I think every footballer feels the same, so hopefully we can make steps to do that, but it needs to be safe to do so.
"We understand that people are losing their lives and losing family members, so you have to put it all into perspective, but hopefully once this is all behind us we can get the fans back in safely and get football back."