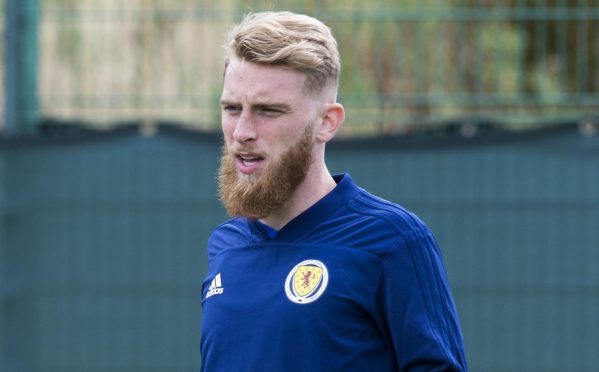 Steve Clarke has hit out at the "over the top" criticism to Oli McBurnie's withdrawal from the Scotland squad.
McBurnie pulled out of the squad for the Israel and Czech Republic games earlier in the week due to a lack of match fitness, with the striker later featuring in Sheffield United's pre-season friendly with Derby County.
An agreement between Clarke and Blades boss Chris Wilder allowed McBurnie to return to his club, after nursing a laceration on his foot that had become infected.
Scotland head coach Clarke said: "I thought the outcry over it was over the top. It was a very simple situation. We met up here on Sunday and Oli hadn't been on the grass training for one minute. He trained on Monday, Chris decided the best way to get some fitness into him was to give him 45 minutes in a pre-season friendly.
"To try and relate that to two massive international matches coming up for us is completely wrong. I'm sure Sheffield United have another friendly this weekend and I'm sure Oli will play some minutes. So he's fit to play in a pre-season friendly for Sheffield United, that's completely different from being match fit and ready to go for your country."
Clarke will not have McBurnie to choose from but does have Kieran Tierney available for the first time under his tenure.
Tierney has come back from long-term injury to impress under Mikel Arteta, reigniting the protracted debate about he and Andy Robertson fitting into the same Scotland side, something both have grown weary of.
Clarke added: "It's a good thing that they are both playing at such a high level and being successful, both of them were trophy winners last season. But I do get the point that they get a little bit fed up about the comparison all the time, it's not really a question for either of them."
Tonight will be the first time Clarke has experienced football in a stadium without fans and hopes Scotland games in the near future can see some spectators through the gates.
He said: "I am a 100 per cent believer that football is a spectator sport and it is sad in these times that we cannot get people in the ground but obviously you have to be guided by the safety. Hopefully by the time we get around to the games next month we are allowed to have at least some supporters in the stadium."