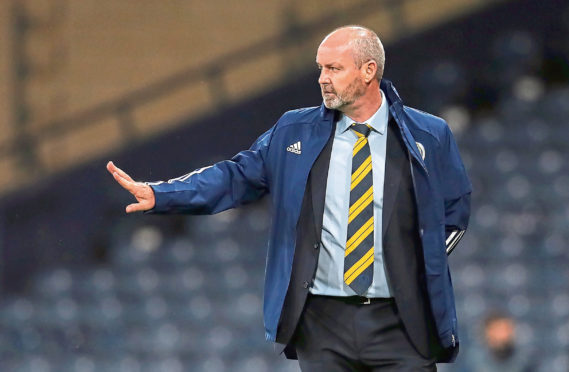 Steve Clarke was left in a no-win situation for last night's game against the Czech Republic.
Scotland went from preparing for a tough game against a very good side to favourites to beat a makeshift team in a matter of hours.
The preparation for either side was  less than ideal with the Czechs going from believing the game was not going ahead on Friday to naming a new squad which contained only two players who had been capped previously on Saturday.
I know if I was Steve I would have been left scratching my head at it all. He's a thorough coach who prepares his side for the challenges they face from any opponent, but honestly, how could anyone have prepared for last night's game?
It was a hugely unfortunate set of circumstances for the hosts but, despite the uncertainty and the change of circumstance the match represented a huge opportunity for Scotland and one they had to grab with both hands.
Going from underdogs to favourites was always going to be a tough tag to handle for Scotland, but I would gladly have taken any sort of win before a ball was kicked.
Failure to win the match would have been disastrous and the criticism of Steve and the players would have been severe.
I can understand why as you would expect to beat a group of strangers who haven't played together before and had only 24 hours to prepare with an interim manager.
A win, no matter the circumstances facing the opposition, was vital, but the pressure on our players must have been enormous.
We all know it has been 22 years since Scotland last graced a major finals and the 1998 World Cup in France seems like a distant memory for many of us. For Steve's squad most will have no recollection of that summer at all.
They have been raised on having to carry that burden, that pressure to end the nation's long wait to get back to the finals of a tournament again and it becomes a millstone which hangs heavier with each passing year.
Events like the one leading up to last night's game only add to that strain.
This is a team being built for a new era, a new challenge, and for the likes of Callum McGregor, Ryan Christie, Lyndon Dykes, John McGinn, Scott McKenna and Scott McTominay, who are going to provide the backbone of the team for the next four or five years at least, they need all the encouragement they can get.
These guys need not only time to adapt but our backing.
Game more fun with fans
Good luck to the clubs who have been given the go-ahead to allow some fans in for a test in the Scottish Premiership this weekend.
I will be in Dingwall for Ross County's game against Celtic and I know how keen Staggies chairman Roy MacGregor has been to get fans back into the ground.
We've reached a point where the current situation is likely as good as it is going to get until a vaccine against the coronavirus is available and as far as I'm concerned it is time to take the plunge and give clubs the chance to facilitate fans at the football again.
We have to start somewhere and this weekend seems like as good a time as any to get some sense of normality. The test events in other sports, such as rugby, have been a success and it's time the national game was given an opportunity. Roy is confident he can accommodate bubbles and friends in Victoria Park and I have no doubt the Staggies chairman will have taken every precaution he can to make this a success.
Chairman Roy MacGregor hopeful of having up to 1,500 fans at Ross County home games
Having been one of the fortunate ones to be at a ground for a game so far, I can tell you it's a surreal experience.
If we have to continue behind closed doors then so be it, but I can assure you football is far more enjoyable for the neutral observers, the media and the players if the fans are there.
Good to see Ryan Fraser will remain in Premier League
I'm pleased to see Ryan Fraser is set to stay in the Premier League with Newcastle United.
We missed his presence in the last two Scotland games, but I can understand the reasons for his absence as he has not trained much since opting not to return to Bournemouth after the lockdown to finish the season.
I don't like seeing Scottish players leave our league, but those who do move on should aspire to play at the highest level which for me is the Premier League in England.
Andy Robertson, John McGinn and Kieran Tierney are three players who have gone to England and are doing well in the top flight, while Ryan was excellent in his spell at Bournemouth.
For the good of the national team we need as many Scots in the top flight as we can muster.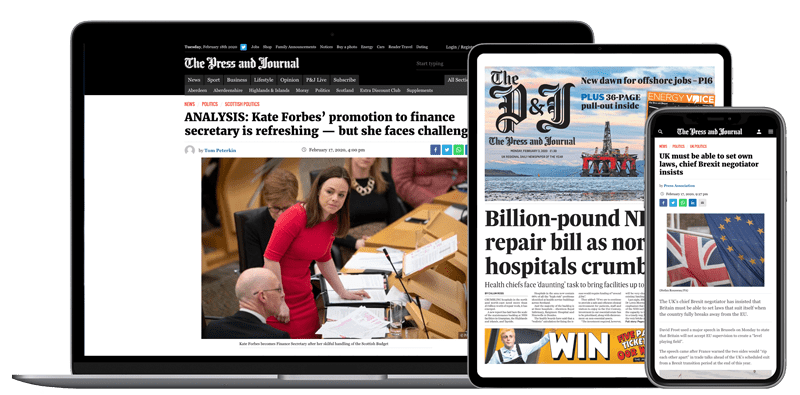 Help support quality local journalism … become a digital subscriber to The Press and Journal
For as little as £5.99 a month you can access all of our content, including Premium articles.
Subscribe