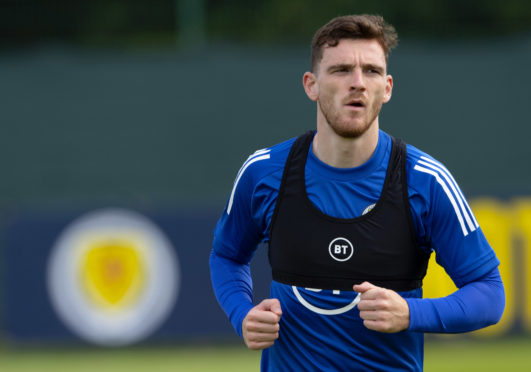 Andy Robertson hopes the Scotland players can rally and beat Israel for their absent team-mates.
Stuart Armstrong tested positive for Covid-19 yesterday, while Kieran Tierney and Ryan Christie have also been ruled out of the three Scotland games after being identified as close contacts.
Further blows came yesterday afternoon, with Scott McKenna, Liam Palmer and Oliver Burke with drawing due to injury.
It has left Scotland wounded but not defeated, according to Robertson, who hopes the remaining players can do their colleagues justice.
"First and foremost, I hope everyone affected is safe, well and healthy," said Robertson. "They are just now and long may that continue. That's the main thing.
'But when these kind of things happen, it is gutting for the lads and gutting for the squad. We are one day away from playing this big game and you lose players from it.
"That's part of the world we live in, sadly. We have had a couple of positive tests back at Liverpool in the last few weeks and so have other teams. Unfortunately it is something we now need to learn to deal with. The manager will address it and a statement has been put out.
"It's up to us to concentrate on the game. We have all been informed and know what's going on.
"The lads who are fit and healthy will be ready for tonight's game. That's all we can do. Unfortunately we can't help the other lads in any way. They need to isolate on their own, so it is up to us to do them proud and do the country proud because we know the lads will be gutted to miss this game."
Manager Steve Clarke called up a squad of 26 to deal with the games against Israel, Slovakia and the Czech Republic, but preparations have been severely disrupted by yesterday's news.
"To lose three players of that quality so close to the game is never ideal," added Robertson. "But these are the cards we have been dealt.
"The gaffer named a bigger squad and I think that has proven a wise decision because we have lost a couple to injury and now the virus.
"We need to rely on the whole squad and that's what we'll do. The manager called us all up knowing we were good enough to play for Scotland. It's time we all go and prove that."
For those that remain, the importance of the game is far from lost. Victory for Scotland against Israel, with whom they drew 1-1 last month, will put them one step closer to a major tournament.
The winners will go on to face Serbia or Norway away from home, for a place in the European Championships.
"To be honest, these big games speak for themselves," said Robertson. "There is a never an issue getting any of the lads up for it. We know what's at stake.
"The lads will be motivated and I hope we are even more motivated after the news today, in terms of trying to pull through for the three lads who sadly can't be with us.
"That's something we have to focus on. Since we have met up, you can sense a big game is on the horizon and that's always a good sign.
"We'll be ready. We still have a lot of experienced lads who can go out there and help the boys get through it."
The game comes at a time where the nation is a frustrated, hurting place. The pandemic and the various restrictions required to curb it have touched the lives of millions across Scotland. A win for a football team might seem inconsequential amidst all of that but the lift victory should provide would be a welcome tonic.
"We hope to provide that," added Robertson. "Obviously the world is in a crazy time in at the minute. If a couple of football results can help unite a nation and maybe lift people's spirits a bit then we will try that.
"We are fighting for something that, as big as it was, is probably bigger now. We are going through some very strange times. People maybe don't have a lot to look forward to in terms of all the restrictions in place and things like that.
"If we can play a small part in trying to lift the nation and trying to help get us through this hard time then that is extra motivation for us."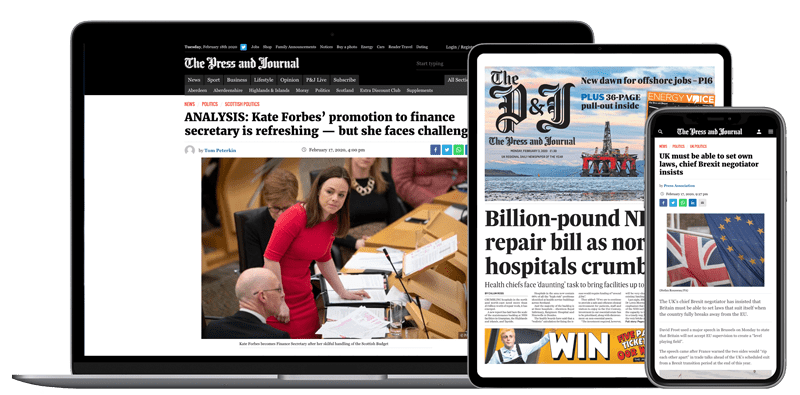 Help support quality local journalism … become a digital subscriber to The Press and Journal
For as little as £5.99 a month you can access all of our content, including Premium articles.
Subscribe