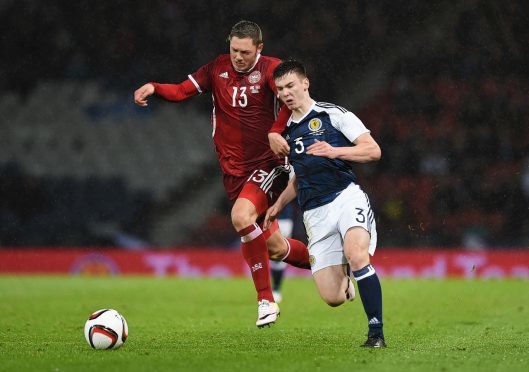 Celtic defender Kieran Tierney says he would be fully prepared to fill in at right back against England after his superb display in the 1-0 victory against Slovenia.
The 19-year-old enhanced his blossoming reputation by impressing as a makeshift right back in Sunday's win. It was a surprise call from manager Gordon Strachan with Ikechi Anya expected to deputise for the injured Callum Paterson but Tierney, a natural left back, had no problems switching flanks to help the national team record a hugely important victory.
Tierney could be deployed in the same position when Gareth Southgate's England visit Hampden in the next World Cup qualifier on June 10.
The Celtic player said: "You can't let anything get the better of you. The coaches were giving me tips, trying to mirror what the left side is like.
"It's obviously different being on your weaker side but you just need to try to get the principles right and I worked as hard as I could.
"I was asked the week before how I felt about playing right back. I said I would play anywhere on the pitch.
"I thought it would be hard but I was trusted there and that's a lot of trust to put in a 19-year-old.
"I was asked to do a job and I worked hard all night, which was all I could do.
"It's just defending. It's a bit harder for me on my weaker side but I worked hard all week in training to get used to it.
"It's not completely natural as you're on the opposite side but hopefully I did my bit for the team."
The 19-year-old admitted he was nervous about playing his first professional match at right back in such a crucial World Cup qualifier for his country.
He said: "I think I was 13 or 14 when I played one or two games there but, other than that, I've not really played or even trained there at all.
"There was a lot of pressure on the team and maybe even more so with me playing out of position. But everyone was great with me.
"The victory gives us a great confidence going in to the next game against England and hopefully we can show the same spirit. We always have the belief.
"We had a lot of pressure on us going into the Slovenia game but I thought we dealt with it.
"It wasn't really a 1-0 game with a last-minute winner. I thought we were the better side for the 90 minutes."
Tierney, one of six Celtic players who started for Scotland, was pleased the victory helped ease the pressure on national team manager Gordon Strachan.
He added: "I'm glad we got the win for him. The manager's been brilliant and I have a lot to thank him for.
"He's trusted me at a young age and he trusted me again on Sunday to play out of position.
"I'm grateful to him."