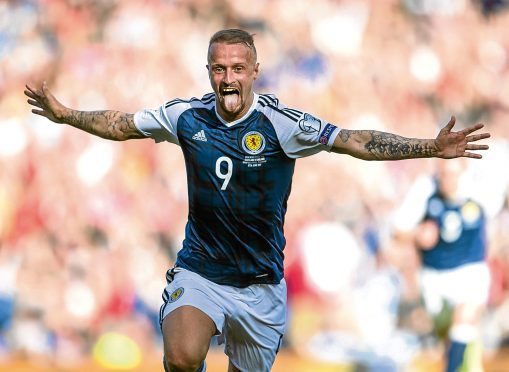 Scotland manager Gordon Strachan is refusing to pin all his goalscoring hopes on forward Leigh Griffiths in tomorrow's crucial World Cup qualifier against Slovakia.
The Scots need a victory at Hampden Park to keep alive their hopes of a World Cup qualifying play-off spot, before needing to follow that up with another win against Slovenia in their final Group F match in Ljubljana on Sunday.
Griffiths came to the fore by scoring two stunning free kicks in quick succession against England in June, leaving Scotland seconds away from a famous victory before Harry Kane's late equaliser ensured a 2-2 draw.
The attacker has also shown his capabilities with club side Celtic, netting in last week's 3-0 Champions League group victory away to Belgian team Anderlecht.
Strachan feels the 27-year-old's work ethic alone will make him a valuable influence on the side, even if he does not take centre stage in securing a crucial win against the Slovaks
Strachan added: "If he doesn't have one of his great nights, other people have to take over.
"I don't think we've been bugged by going out there and people saying 'I hope he's great because I'm not very good.'
"We never know who the star man is going to be.
"Maybe Leigh isn't going to be the star man, so he just does what he does and puts the workman's gear on and just chases everyone about like he does.
"He got more cheers by chasing people about against England than anyone else – and that brings a crowd with him."
Strachan says there is no set plan for who assumes free-kick duty, adding: "At that point it's just about who feels good. Sometimes I see people taking free kicks who are trying to get something from a bad performance.
"They are clutching at straws and hoping they get a free kick but there are some who want to take a free kick because they are flying.
"They have to look at that."