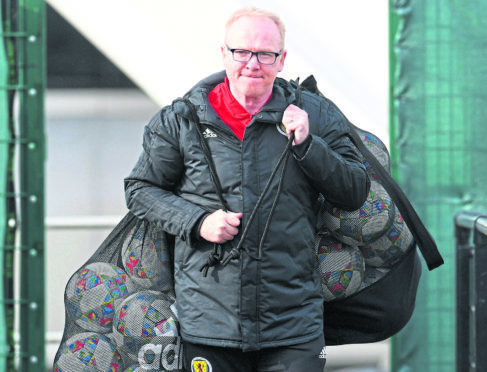 Scotland manager Alex McLeish insists there is no guarantee striker Leigh Griffiths will regain his place in his squad after his withdrawal from the squad to face Israel and Portugal.
Celtic attacker Griffiths informed McLeish of his decision in a phone call over the weekend, claiming he wanted to use the international break to work on his fitness.
The 28-year-old was left out of the starting line-up for the last UEFA Nations League match against Albania in September, with his replacement, Steven Naismith, scoring one goal and setting up the other in the 2-0 victory at Hampden Park.
McLeish revealed last week Griffiths had not responded to his attempts to discuss the matter and says the player's decision has given Naismith and other attackers the opportunity to stake their claim.
He said: "There are no guarantees. He knows that. That is how I left it. It is his personal decision. It is up to Leigh what happens in the future.
"I had a conversation with him. He feels he has got to work on his fitness. He pulled himself out.
"He wants to be honest with himself and about the situation. We are happy that there are no other call-offs. We go forward.
"We are looking for top performances from the guys that we have. Everybody here wants to play for Scotland in these games.
"If we can get positive results then it just increases the confidence levels and empowers the players."
McLeish is confident Griffiths' decision is not a negative reaction to being dropped last time out, adding: "There's not a problem with that. I understand a reaction at a particular time, but he didn't carry it forward. I said at the time that he replied by scoring three goals in quick succession for Celtic. That was a good reaction to the whole thing. There is not a problem.
"I had a good conversation with Leigh on Saturday. I said 'Okay, there are obviously no guarantees, but you feel you have got to get yourself fit'. That is down to his mentality. He is determined to do it. Let's see what happens."
Explaining the thinking behind his decision, Griffiths said: "It means a lot to me to play for Scotland and I hope to be part of Alex's plans again in future, if selected.
"I feel that I need to focus on my fitness over this international period and get back into the best possible shape. I had a good discussion with the manager to explain. It's not one that I've made lightly.
"My aim is to be back to my best and be available for section for club and country."
McGinn's change of focus – P58, 59