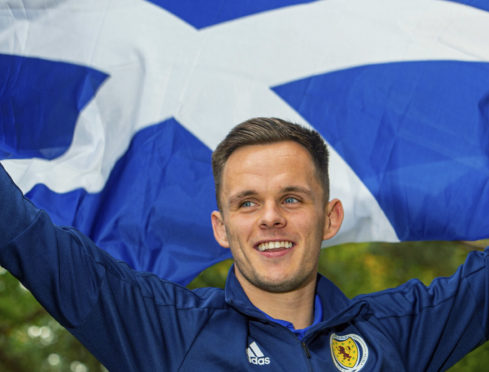 Lawrence Shankland knows he must win over the dissenters who have questioned the merit of a Championship player in the Scotland squad.
After winning his maiden senior Scots call up, Dundee United forward Shankland yesterday trained with Steve Clarke's men for the first time to begin preparations for this week's Euro 2020 qualifying double header against Russia and San Marino.
Following on from a memorable campaign in which he netted 34 goals for Ayr United last term, Shankland's return of 15 goals in 13 appearances since making the summer switch to Tannadice shows undoubted goalscoring prowess.
Shankland's ability to translate it to the international scene has been the subject of much debate, and the former Aberdeen player knows he has still to win many doubters over.
Shankland said: "Because it's looked upon as the second division in Scotland, I can see people's point of view.
"From the bottom six in the Premiership to the top end of the Championship there is probably not a great deal in it, but I can see people's point of view when they are saying that.
"If the goals are going in at the pace they have been, I'm doing all right.
"Coming away with such talented players was obviously a bit daunting, but I have been out and done the first session.
"I'm not the first one to be called up. It happened to John McGinn a few years ago, and look at him now. He has really kicked on and playing every week in the Premier League.
"People wouldn't have seen that for him at the time. I was playing in the Championship at the same time he got his call up, so I know the level he was at.
"There are going to be criticisms, I'll just look to play my football and ignore all that."
Shankland believes he is capable of making the step up, adding: "The ball will probably get moved a lot quicker. It's all one or two touch here, I saw that in training in the morning.
"It's something I back myself to be capable of, to be able to come in and play with players like this.
"It can only make it easier if I'm getting the service of top players.
"It's probably a wee bit sharper but I managed all right."
Despite being released by the Dons in 2017 after failing to find the net in 17 appearances, the dream of representing his country was never lost on the Glasgow-born 24-year-old, who added: "You've got to be open minded.
"I never once thought I will definitely be in the Scotland squad if I keep doing what I am doing. All you can do is perform at the level you are at and if you do that there's always a chance. It's come around for me now.
"I probably wouldn't have been ready before now, if I'm honest. But I'm probably playing at near my potential now. Obviously there are still things I can work on all over my game. That's what I will look to do. That's what I will look to gain from this week. But I can't say I'm looking forward to making up for lost time because there's no guarantee I would have been ready before now."