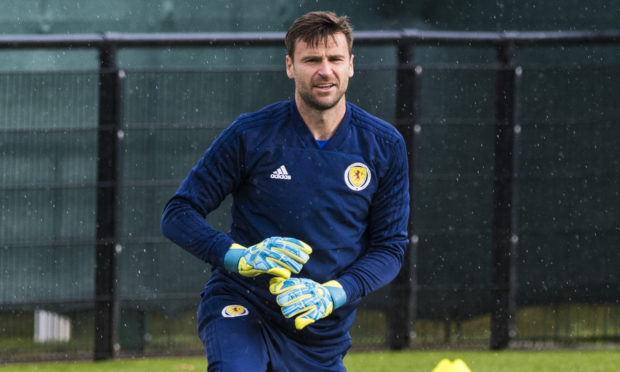 The current Scotland squad gives David Marshall more cause for optimism than ever before in his international career – even if Steve Clarke's men miss out on a place at Euro 2020 next summer.
Goalkeeper Marshall's Scots career has coincided with the nation's 21-year absence from a major finals, with the Wigan Athletic player winning the first of 31 caps in a 3-0 friendly loss at home to Hungary in 2004.
Scotland's hopes of qualifying for next summer's European Championships realistically rest on the play-offs in March following a disappointing qualifying campaign, which sees them sit fifth in Group I ahead of their seventh fixture away to Russia tonight.
Despite criticism of some of the Scots' recent performances, the pool of talent available to Clarke gives Marshall hope better times are not far away.
Marshall said: "Over the course of time a lot of players come through. I have been there a long time. There are times when you think maybe the squad isn't as strong as it was three or four years ago.
"In terms of the age of this squad and the level the lads are playing I don't see there being a decline.
"Obviously making that comment when we are getting beat I leave myself open to criticism, which is fine. I can only say what I honestly feel – and the lads are at a great age.
"I can't remember too many starting sides when the majority of them are playing at the level that these boys, the Premier League boys, are playing at. It might not be this month or next month, but I genuinely do feel there are reasons to be optimistic.
"I can't remember too many times when there have been proper Premier League players who are really important to their team. We have had some in the past. But I really feel in the next few years we can really benefit from that."
Although there is precious little at stake in Scotland's four remaining group fixtures, Clarke's side will need to win just two play-off games – against opponents yet to be determined – in order to qualify for the competition finals.
Marshall knows the scale of the opportunity, with the 35-year-old adding: "I wouldn't say the lads are affected by the pressure. We have not qualified for over 20 years so I don't think we should be feeling that pressure, we should be desperate to push on and be that squad that gets there.
"Regardless of what happens in the next four games, we're going to get to March, step out on to that pitch and the whole stadium is going to be jumping.
"The country is going to be behind us and everybody is going to be desperate to win that game to give us another chance to get there."
Marshall has enjoyed an national team renaissance under Clarke, with the former Celtic and Norwich City goalkeeper insisting international football has become more difficult during his 15-year period of involvement.
He added: "I have had a bit of bitty international career. When I first got in I wasn't asked to play because big Craig was playing all the time. I had time to settle. It is different. There tends to be a lot tighter games.
"I think the standard of international football is a lot better as well. Years ago you turned the smaller teams over a bit easier. Now, everybody is a lot more organised and fitter. It has got a lot harder."