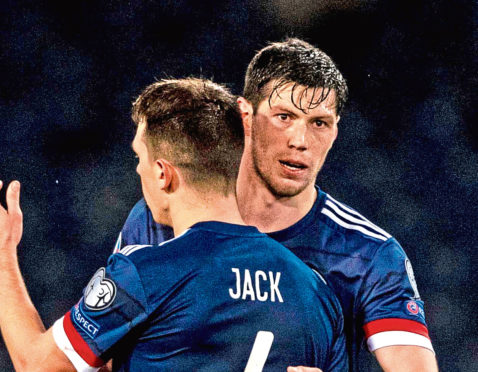 Scotland manager Steve Clarke believes Scott McKenna will learn from his mistakes at international level.
The Aberdeen defender was blamed for Kazakhstan taking the lead at Hampden on Tuesday night when he backed off Baktiyor Zainutdinov, who then shot into the top corner from 25 yards.
The 3-1 victory over Kazakhstan was only McKenna's 14th Scotland cap and Clarke has backed the 23-year-old to improve further.
He said: "Scott is a young central defender finding his way in international football, as is Declan (Gallagher, McKenna's centre-back partner against Kazakhstan and Cyprus).
"They make little mistakes and it was a little mistake that was heavily punished. But that's what happens at this level, that's what I explained to them at half-time.
"The good thing for me was they listened to what I said at half-time and in the second-half they stepped into the game and it allows us to then free the attacking players to go and do what they do best.
"At this moment in time he is a good young prospect. Obviously he is picking up games all the time for Aberdeen in the Premiership.
"He has got a lot of clubs who have looked at him, maybe there will be a bit of interest in him.
"But I am not going to talk about or try to sell Derek's (McInnes) players. Derek will be on the phone to me straight away!
"The biggest thing for Scott is just to keep developing, keep working even if he makes small mistakes like he did in the first-half. I don't know if it was Scott or Declan, but they should have stepped up onto the number seven and not allowed them to turn.
"But those are little things. If they improve on them they will become better players."
Clarke believes man of the moment John McGinn is an example to every player that it takes time to find your feet on the international stage.
The Aston Villa midfielder has scored seven goals in his last six internationals and on Tuesday became the first player to score in three successive Scotland games since James McFadden in 2007.
Clarke added: "It is a different level. It took John a long time to find out the level. I think the little tweak in John's position, which came from Aston Villa who stuck him a little bit higher up the pitch, has made a difference.
"We have utilised it as well. And as well as giving us a threat attacking-wise with John arriving in the box – which he is very good at – it also gives us a good high press at times."
With Manchester United's Scott McTominay missing the wins against Kazakhstan and Cyprus, former Don Ryan Jack impressed in anchoring the midfield.
Clarke, who would like to have both available for March's UEFA Nations League play-offs, said: "Ryan has done himself a power of good in the two games.
"That will be a nice choice to have. As a manager I want as many difficult choices as I can get."
In the play-offs for a place at next year's European Championships Scotland will face Bulgaria, Romania, Hungary or Israel in the semi-final at Hampden before tackling Serbia or Norway home or away in the final.
The draw is tomorrow, but Clarke refuses to look beyond the semi-final, saying: "I think we have to look at who we get in the first game.
"We know the first game is going to be here at Hampden. So we make sure we are properly prepared for that and then we should know afterwards whether we are home or away."