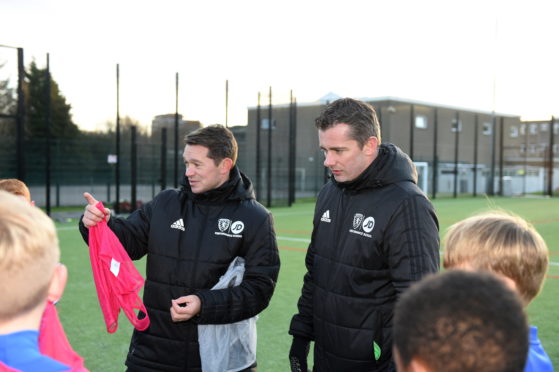 The game of head tennis, inside Hazlehead Academy's sports hall, grows as the clock ticks on towards 8:30, 8:45 and then 9am.
One Performance School youngster, Findlay Marshall, arrives triumphant after scooping the under-14s prize at Aberdeen's youth awards the night before. The school's elite performance coach Stuart Glennie jests about him becoming big-time, after winning the award for the second year running. "He's been doing that for years," chirps his fellow coach Derek Young.
S1-S4 pupils are taken out for two periods a day to train with Glennie, on the assurance that schoolwork will be caught up on. Parents' minds are put at rest by two meetings a year to review their child's progress.
Facilities have to be shared with Hazlehead's PE department, with a touch rugby game taking place on one half of the artificial pitch. Friday is a more relaxed day for the pupils, given they will play matches for their club sides at the weekend, with Glennie and Young, the former Aberdeen midfielder, putting on small-sided games for the players.
A game of two-touch starts each session; "the kids will say I always go on at them about two things," says Glennie. "Take care of the ball and if you lose it, react to get it back. Taking care of the ball could be beating five players and sticking it in the top corner, or it could be a five-yard pass."
Orders are not barked. Various wrinkles are put on the game to mix it up, with rotating goalkeepers and spare men stood at each end of the pitch, acting as first-time back-boards to bounce stray passes into play. Young sets off on a half-celebration after setting up his third goal in a row.
"You're looking for them to put into practice what they have learned," says Young. "You might need to give them an occasional shout of 'chase your runners' and they'll react."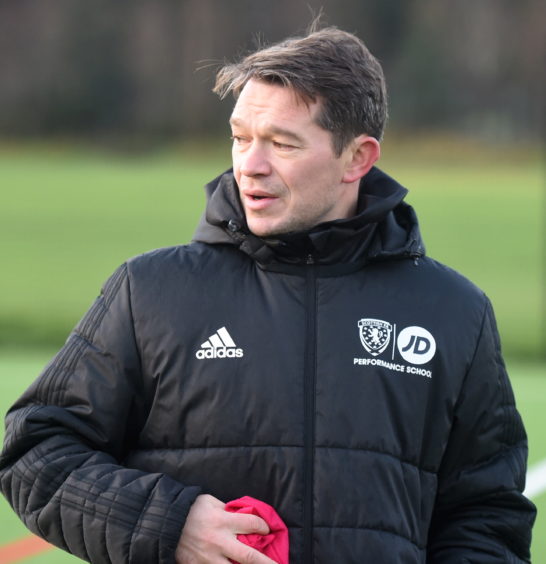 Pupils hail from considerable distances outside Aberdeen, such as Laurencekirk, Rothienorman and Portsoy. Big decisions have to be made along the way to give the pupils a chance to succeed. Archie Mair, the ex-Aberdeen goalkeeper who joined Norwich City in the summer, is a case in point.
The Scotland under-19 international hails from Turriff and a farming family, which would have made travel difficult to the school. However, Mair was able to stay with friends during the week to attend the school, which allowed him to chase his dream.
There have been those who have cast doubt on the viability of the Performance School programme, preferring the funding allocated by the Scottish FA and sponsors JD Sports to go towards the 42 SPFL clubs instead. But the money that would be fed back would be minimal, around £20,000.
---
Synergy between the Performance School and Aberdeen, as the elite team in the region, is vital.
Aberdeen's head of youth Neil Simpson drops into Hazlehead on Tuesday every week, to assist Glennie and Young with the training sessions and also to check in with the Aberdeen players in the Performance School.
Twenty-two out of the 27 pupils also train with Aberdeen, giving them increased time on the park and greater exposure to high-level coaching, which Gothenburg Great Simpson has seen the benefits of.
"It's doubling the amount of coaching hours. You speak about 10,000 hours (of coaching) to get an elite athlete; they're getting towards it now because of the amount of coaching they're getting.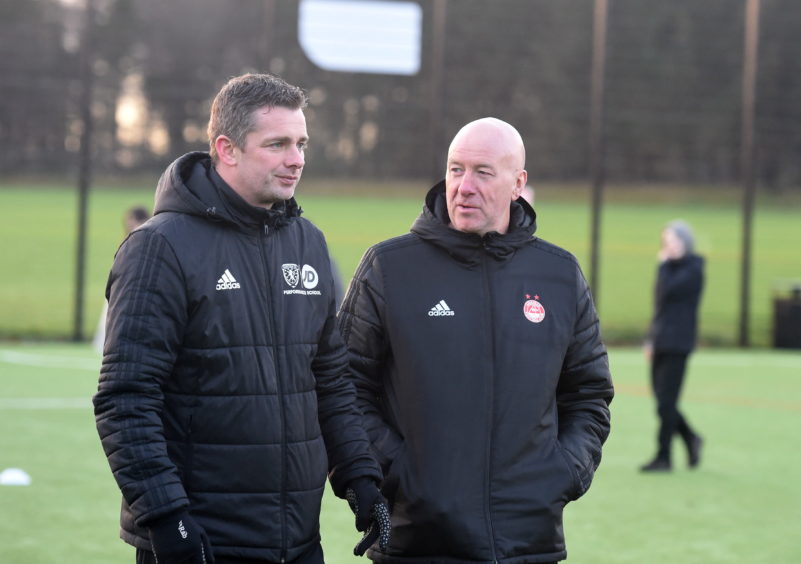 "The parents have also found it easier. Let's say your son goes to Portlethen Academy – he'll finish at four o'clock and one of the parents will have to pick him up and take him to training, then wait for training to finish at seven. What happens here is, we get a bus to pick them up and take them to training. They can then come pick them up from training at seven.
"What we normally do (on a Tuesday) is break into groups of three and do a lot of individual stuff. It might be switching of play, defending, one-v-ones; we all take a group and rotate. They're getting the maximum information and fine details. You're reducing it so you can work with the individual players."
As well as having a vested interest in the school professionally, Simpson also has a personal connection. His son Kyle (12) is a pupil at the school but unlike his old man, a tenacious midfielder in his day, Simpson junior is a left-back, with an affinity for the Dons and Manchester City.
Also catching the eye is Alfie Bavidge, who hammered in six goals for Aberdeen in a recent win over Hamilton at youth level, and at 13 is already impressing as a natural finisher. As the son of Martin, a former striker with Caley Thistle and Peterhead, perhaps it should not be unexpected.
The integration of the two organisations – the school and Aberdeen FC – is a far cry from Simpson's time in the youth set-up, from which he graduated to make his first-team debut in 1980.
"We trained on the Pittodrie car park," he remarks. "It didn't do us any harm because we didn't know any different."
---
The poor results of the Scotland men's team have been extrapolated back, somehow, to the Performance Schools, despite a graduate from the programme yet to make his debut for the national side.
Often ignored is the fact that at youth level, Scotland have made strides. The under-19s, featuring Aberdeen Performance School graduates Dean Campbell and Ethan Ross, beat Germany 1-0 to qualify for the elite round of qualification for the 2020 European Championships.
The under-17s are through to the same stage of their age-group Euros qualification. The under-16s, of which Glennie is an assistant coach, were joint-winners of the Victory Shield. The women's under-19 and under-17 squads start their elite round qualifying next year. The green shoots of recovery are there.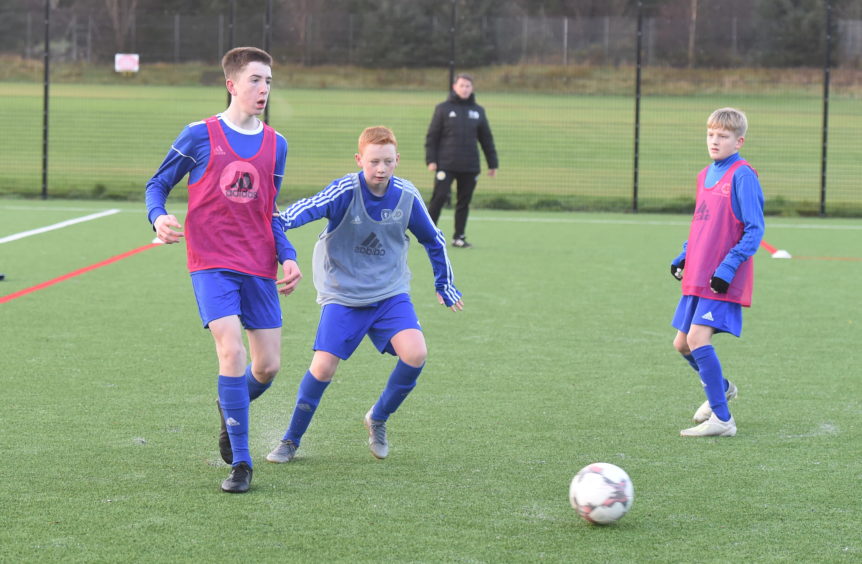 "We're in a good place with the youth sides and with the Performance Schools, we just need to keep being patient," Glennie says. "We still need more young guys getting opportunities at first-team football.
"In certain areas there's been friction between clubs and Performance Schools – why should there be? You're all working towards the same thing, to make better players.
"They need a run of games and need people to believe in them, give them a wee bit of time.
"A lot of guys at that age are not playing enough games right now, in my opinion. There's a lot of great young players out there."
---
In some respects, Dean Campbell is the trailblazer for the Performance School programme.
He was the first graduate to make his senior debut, becoming Aberdeen's youngest player when he appeared against Celtic in May 2017.
That came towards the end of his time with the Performance School at Hazlehead, which he had joined during its second year.
"For me, it was getting the taste for going into full-time football," said Campbell. "It wasn't as demanding as the standard you have to be at full-time, but it was the exposure to training every day, knowing when to rest. It gave me the appetite to work as hard as I can to be a professional footballer.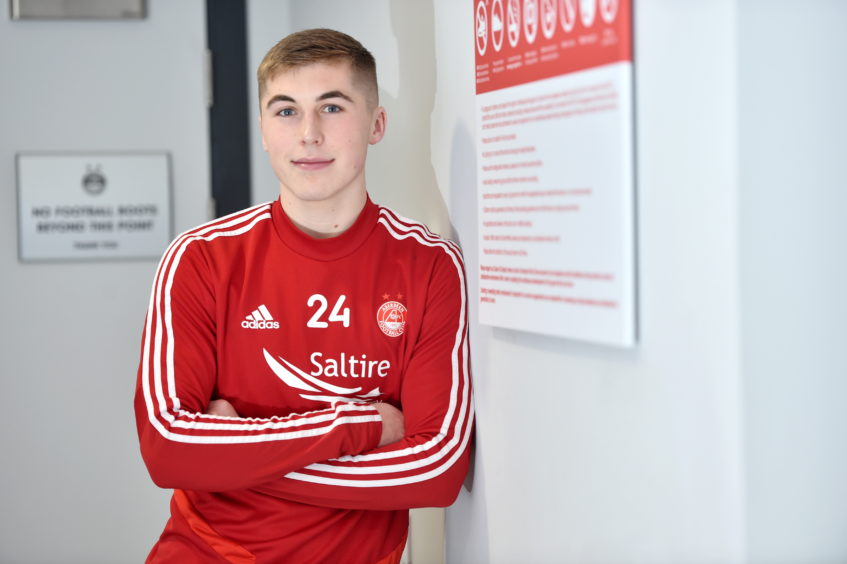 "Also playing football every day gave me chance to work on my weaknesses and my strengths. You would always have time to work on things you wanted to work on."
From a young age, there is an onus on the players to find their own work-football balance. Education remains important and pupils should catch up on any work they have missed.
Campbell said: "It was never really a problem for me – if you used your time properly.
"I caught up on the work I missed. There's a lot of responsibility. The academy and football had to be balanced – nothing was more important. There's a responsibility from the first year to ask the teachers for help, to ask what you're missing out on and if they can explain things to you.
"It does take a bit of maturity and responsibility and you have to learn that quickly."
Feedback, too, was constant, with regular discussions between coaches, pupils and parents to ascertain an individual's progress. Goals would be set and reviewed each year to see if they were close to being achieved.
Campbell came through his age group with Ethan Ross, who made his first-team bow earlier this year, while Seb Ross, Chris Antoniazzi and David Dangana, from the year above, have all made debuts out on loan.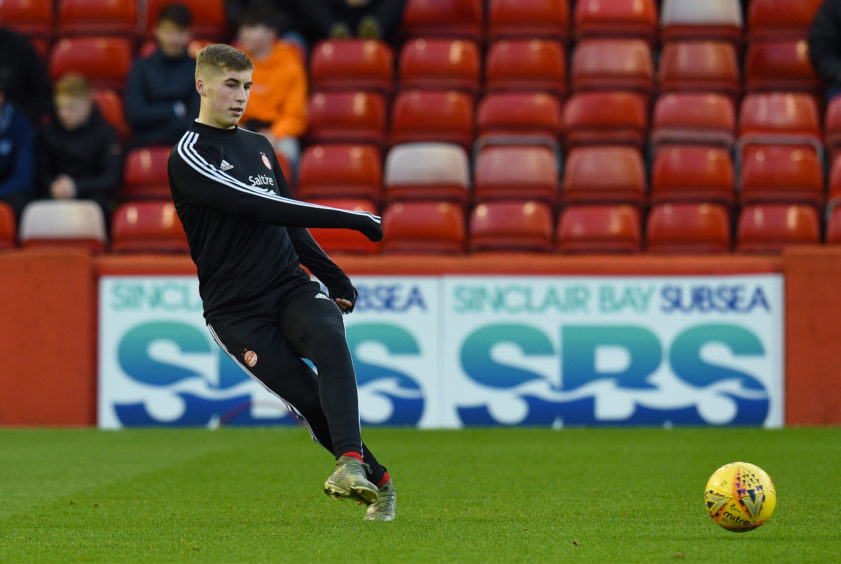 The 18-year-old cites the 2-0 win over Rangers in the Scottish Cup in March as his proudest moment to date, making his first start for the club at Ibrox in a team that featured two other teenagers in Lewis Ferguson and Connor McLennan.
He is proud to have the honour of being the Dons' youngest player and recalls fondly the day of his debut, given he sat an English exam on the morning of the game.
He said: "It was exam time at S4 and I got told the night before I'd be in the squad the next day.
"The gaffer didn't know I had my English exam in the morning, so I had to do that knowing in the evening I had to go to Pittodrie. I made my debut, which was an incredible achievement.
"The weirdest thing about it was my English exam paper was about football. I had to try block it out my mind, focus on the exam first and after the exam was done I had the whole day to prepare for that (his debut). It was a day in my life I'll never forget. I managed to get an A in the exam, which makes it even better.
"The manager might have found out in the days after when the articles were coming out about it! The game was his priority but afterwards we probably had a joke about it."
---
Glennie acknowledges the benefits of his positive working relationship with Aberdeen. The club's head of youth Neil Simpson attends the school one day a week to coach and monitor players' progress, with 22 Dons youngsters attending Hazlehead. Having Campbell in the Aberdeen first-team is an added bonus.
He said: "We do sports science with S1 and S2s on Wednesdays. Do they like it? They do it because they know it's part of this. But ask them if they'd rather go kick a ball about? They'd rather do that. I remember Dean's age group being the same. But get him to come back now and he will say 'this is the reason why we did it'.
Congratulations to ex-Hazlehead and @PerformSchools pupil Dean Campbell. Signing new contract with @AberdeenFC #Ambition #Confidence #Respect https://t.co/zNdAy6jPwH

— Hazlehead Academy (@hazleheadacad) December 13, 2019
"All these guys that have come here – what they've done is down to them. They've come here every day, they've had to listen to me pushing them on. But ultimately they've done it themselves. Clubs will get the credit and rightly so, because they put the money into it. But for me, it's the parents and the kids that deserve the medals."
The young players get the chance to evaluate their coaches, through an annual questionnaire with the Scottish FA's children's wellbeing officer, with the players put at the heart of programme's aims.
"It's making sure we're all working together to do what's best for the kid," Glennie adds. "It should not be what's best for the club and it should not be what's best for the school or the SFA. It has to be the kid.
"If they need to be let go because they're struggling, or if they need more support, that's what we need to do."