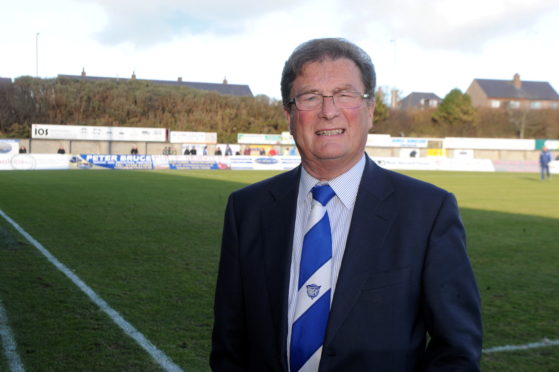 Peterhead chairman Rodger Morrison claims SPFL member clubs have been left in the dark about mooted changes to the league structure.
The prospect of colts teams playing in the lower leagues of the SPFL is back on the agenda following reports of fresh proposals for league reconstruction.
It is claimed the SPFL wants to increase the number of clubs in Scottish football's senior leagues from 42 to 44, and two colts teams could be invited to join the lower leagues.
The news has come as a surprise at Balmoor, home of the Blue Toon, who won promotion to League 1 after being crowned League 2 champions on Saturday.
Peterhead chairman Morrison consulted general manager Martin Johnston, the club's representative at SPFL meetings, yesterday to discuss the reports and was left perturbed that it appears clubs have not been consulted prior to the information becoming public.
Morrison said: "Right now we can't discuss this as we've heard nothing about it whatsoever from the league.
"If there are plans afoot for clubs to discuss then it's really disappointing that information is being put out publicly before any of the clubs get something from the league to look
at.
"We should be the first to know if changes are being proposed and the whole situation is bizarre. Clubs speak to one another and there has been nothing mentioned about this at all."
As part of a move to incorporate two colts teams, one proposal being put forward is to merge Leagues 1 and 2.
Options being considered include increasing the Scottish Championship from 10 teams to 12, with clubs playing each other four times in a 44-game season.
Other options also being discussed include having no relegation from next season's Championship with the top two teams in League 1 automatically winning promotion.
While merging Leagues 1 and 2 is another possibility, one alternative is to retain the current 10-team format in League 1 and League 2, with the champions of the Highland League and the Lowland League automatically winning promotion to League 2.
Morrison is keen to see any proposals so that club directors can have the chance to discuss them.
He said: "What I would say is that clubs in League 1 and 2 were not in favour of colts teams when this was last discussed.
"But until we see for ourselves what changes, if any, are being put forward for discussion, then it would be unwise to comment on speculation."