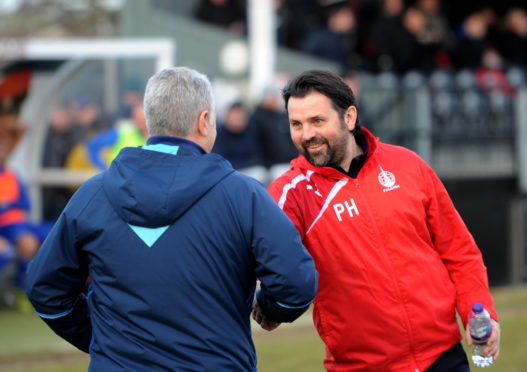 Helping out at Cove Rangers has given Paul Hartley the coaching bug again.
Hartley took some training sessions with the Highland League champions, alongside co-manager Graeme Mathieson, following John Sheran's heart attack last month and says it has rekindled his appetite for the game.
The former Aberdeen captain has been out of work since losing his job at Falkirk earlier this season. He had previously won promotions with Alloa Athletic and Dundee.
His relationship with Sheran – his partner Lisa is Sheran's daughter – meant he was only too willing to help out with Cove, who gained promotion to League 2 for the first time at the weekend.
Hartley said: "You do lose the bug after losing your job. But working with them (Cove) has given me that real drive and energy to back into football. They're a really good bunch of lads and will be a great addition to the league.
"The lads were terrific and a real pleasure to work with. They showed a lot of quality and it didn't surprise me they went on to win the play-offs. I couldn't be happier for them.
"Obviously with my relationship with John, I was more than happy to help out. I know a few of the players from when they were kids at Aberdeen – Scott Ross, Jamie Masson, Mitch Megginson, Jordon Brown, boys that have grown so well and the standard was excellent.
"With every training session, they did everything that was asked of them. There's a lot of quality among them and there's no reason why they can't do well in League 2."
Hartley and the Sheran family travelled to Berwick on Saturday to watch Cove finish the job in the pyramid play-off, winning 3-0 to complete a 7-0 aggregate triumph.
Co-manager Sheran was spotted by the dugout towards the end of the game and was serenaded by a boisterous travelling support as he made his way on to the pitch for the post-match celebrations. He stated after the game and on Monday that he would take some time before deciding his future, with his health and family to come first.
Hartley added: "It's been a shock to us all but hopefully he's on the way to a full recovery. It was great for him to be at the first game last week and then on Saturday.
"He's been itching to get back in the dugout and has been in contact with the players, staff and me since I've taken training. He's such a good man and it's great for him."