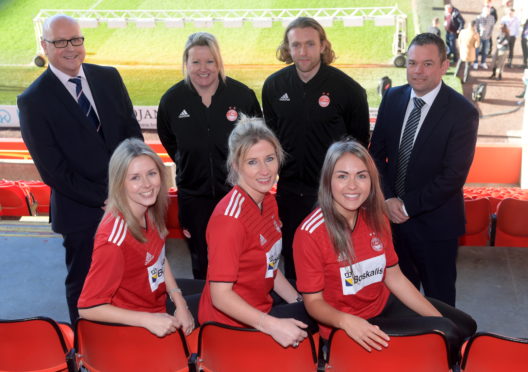 Aberdeen FC Women's new management team believe their newly-established relationship with the Dons can help them achieve their ultimate goal of returning to the Scottish Women's Premier League 1.
Harley Hamdani and former Scotland international Emma Hunter were unveiled as the team's new co-managers ahead of their opening match of the season in SWF North Division One against Caley Thistle on February 10.
The club, which was not previously affiliated to the Dons, is looking to bounce back after suffering successive relegations and Hunter says the support from the Dons will be invaluable as they attempt to build from the third tier.
Hunter said: "It is an exciting time in women's football with Scotland qualifying for this summer's World Cup.
"People are starting to pay attention to the women's game and we hope to generate interest for people to want to come watch our games.
"We want be able to move up the leagues and compete with teams like Celtic and Hearts, who have also invested in the women's game. The amount of resources and support the club has given us has been phenomenal. It makes a huge difference and our job a lot easier.
"We know we will be the team to beat in the league and there will be a pressure that comes with that."
Boskalis, a global dredging and maritime services provider, is also supporting Aberdeen FC Women as the team's main sponsor.
Hamdani, who coached the AFC Ladies under-21 squad last season, has high hopes for the new set up.
He said: "We have a very competitive squad with some youth national players. There are competitive teams in this league but it is a great chance to make an impact this season and build a platform for the future.
"This relationship helps us with support for training, video analysis and sports science. Everything becomes a lot more professional. It is an elite group of players and they deserve the best.
"Now that we have the investment from the club and our sponsors, we can give them that."
Club captain Kelly Forrest says the players are determined to return to the top flight.
She said: "This is a massive step in the right direction as there is a lot Aberdeen can offer that we wouldn't have as a solo club.
"The aim is definitely for Aberdeen to be an SWPL 1 side. Aberdeen have always been in the top tier and competing with the likes of Celtic, Rangers, Glasgow City and Hibs until the last two years.
"It is abnormal that we aren't in the top tier so the aim is to get back there. The last couple of years have been tough but hopefully this affiliation with Aberdeen will make it easier for us to retain players."