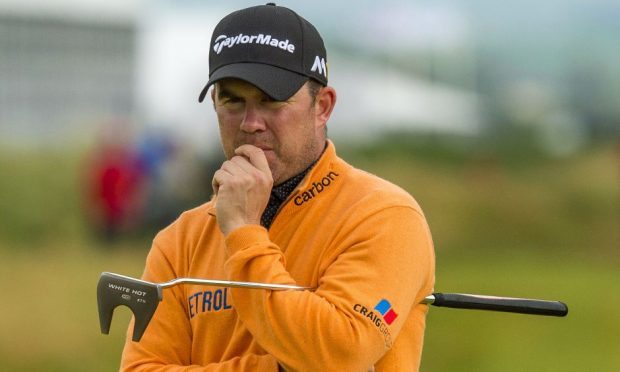 Aberdeen's Richie Ramsay thanked playing partner Matt Kuchar for inspiring him to a promising start at the 146th Open championship.
Ramsay carded a two under 68 – three behind first round co-leader Kuchar – to finish the day just outside the top-10.
The Press & Journal columnist enjoyed the experience of playing alongside Kuchar for the second week in a row, having been paired together for the opening two rounds at last week's Aberdeen Asset Management Scottish Open as well.
Ramsay said: "Matt is very calm. It was great learning curve for me to see what it takes to get in front at a major championship.
"We chatted the whole way round.
"He is the kind of guy you pull for. I don't pull too much for him, I don't want him to get too far away, but he is a great example of how to play the game.
"He has a game that is similar to my own, it is not about overpowering a golf course. It is more about finesse, skill and touch around the greens.
"It was great for me to see someone like that competing at the top level knowing that I can try to replicate that.
"Don't get me wrong, Rory McIlroy hitting a driver is an unbelievable sight to see, but for sheer scoring ability and the way he gets around a golf course, if you are an amateur golfer go watch Matt Kuchar.
"The fact I also really like the golf course made a big difference. It has some holes similar to Royal Aberdeen with the way the greens are tucked into the dunes and the high tee boxes."
Martin Laird, who finished tied 32nd at last month's US Open, is also in good shape heading into today's second round after a two under 68.
He said: "The harder the course, the harder the tournament, the better I play.
"I play well when scoring is hard as I'm pretty good at working my way around the golf course.
"I feel comfortable on this type of course, not necessarily because it's a major – but because the courses for majors tend to be set up so tough.
"My short game has improved a lot over recent years. That used to be the thing that really held me back in majors.
"You can't get around these courses if you don't have a good short game.
"The fact that I have a better short game now is what gives me a chance when I come to these tournaments."
By contrast, Inverness' Russell Knox sounded deflated after continuing his disappointing run of form with a four over par 74. He said: "It is just not happening.
"Off the tee I was pretty good but some sloppy mid-irons cost me three or four shots. That is normally what I am so good at."
Aberdeen's Paul Lawrie felt frustrated after failing to take full advantage of the best of the weather during yesterday's opening round at Royal Birkdale.
The 1999 Open champion is still well placed to make the weekend after a level par 70 but felt he should have ended the day much further up the leaderboard.
He said: "I am disappointed as I played lovely and hit a lot of good shots.
"I missed a lot of short putts out there, probably four or five from under five feet.
"Seventy was a shocking effort given the way I played but sometimes that is the way it goes.
"You can't putt like that and be in contention."
Fife amateur Connor Syme rallied with a birdie-birdie finish to end the day one shot better off than Knox with a 73.
David Drysdale finished two over after a 72, while 1985 champion Sandy Lyle shot a 77.​