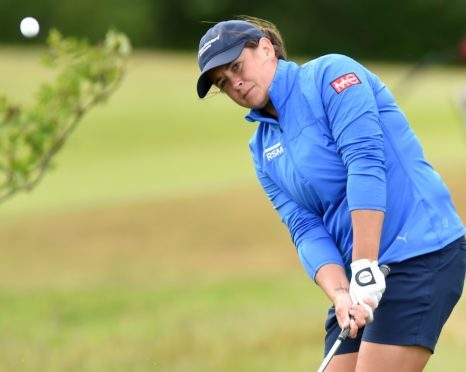 What a difference a day made for Ellon golfer Michele Thomson.
The Ladies European Tour golfer improved 10 shots on her first round score in the Scottish Par 3 Championship with a second round one-over-par 55 to finish 12-over for the tournament at Paul Lawrie Golf Centre.
Despite enduring the most testing of conditions in the first round the 20-year-old believes her display yesterday was every bit as good as the first round.
She said: "The two scores tell you everything about the difference between the two days here. Yesterday was tough but I felt as if I hit the ball just as well. I was just unlucky at times. When you are slightly off line here you are in the mulch."
The damage was done on day one but Thomson was pleased to have the chance to learn from 2005 US Open champion Michael Campbell, who was her playing partner in yesterday's second round.
The Scot has little time to reflect on her round, however, as she flies out to Thailand today to compete in the Ladies European Thailand Championship at Phoenix Golf Golf and Country Club next week.
Thomson, who will be joined in Thailand by Nairn's Kelsey MacDonald and Amy Boulden, who also played at Paul Lawrie Golf Centre yesterday, said: "It was great to be able to play a round with Michael and it's nice to be able to say I shot the same score as a former major winner.
"I've never seen him play before in the flesh and it was really good. Any time you get the chance to spend some time with a major champion is a positive and I felt as if I got a lot out of our couple of hours on the course.
He was really nice and really positive so hopefully I can carry this experience into Thailand next week."