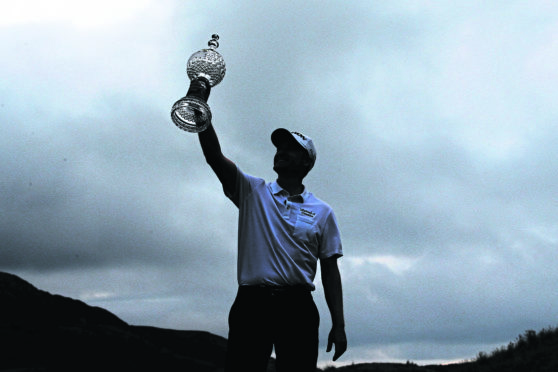 Inverness player Russell Knox will favour slow, steady improvement over any urge to seek rapid progression after returning to the world's top 50 after his extraordinary victory in the Irish Open.
Knox holed from 40ft for birdie across the 18th green in regulation to join Ryan Fox on 14 under par, the New Zealander then missing from 8ft for a birdie of his own.
When the players returned to the 18th for a sudden-death play-off the situation was repeated, Knox holing from almost exactly the same place for birdie before Fox saw his attempt from close range catch the edge of the hole and spin out.
The victory is Knox's first since 2016 and takes him from 87th in the world rankings to 49th, as well as firmly into contention for a place in Europe's Ryder Cup team in Paris in September.
The 33-year-old Scot believes he has learned his lesson from the aftermath of that previous win in the Travelers championship in America, which saw him reach a career-high of 18th in the rankings.
"I got up to 18 in the world and I saw how good a place that was," Knox said. "I think I tried to get better too quickly. I've kind of preached to myself and younger players my whole career that you just kind of get better slowly without almost forcing it, without trying to get better.
"I think I got to the point where I was really close to being right where I wanted to be, top 10 in the world, and I just pushed too hard and I got worse.
"Golf is just hard. Once you lose your confidence, which I did a little bit, and I was tinkering with equipment, I just didn't quite get it right. But I knew starting this year I'd played good golf and I knew that something was going to happen.
"The last couple of months have been really good, just not quite finishing off and quite holing the putts and hitting the shot at the right time. These last two weeks (he finished second in the French Open) it's been really good."
Knox will now turn his attention to two tournaments on home soil, the Scottish Open at Gullane being followed by the Open at Carnoustie, but admits fatigue may well be an issue.
"This was my fourth in a row and I had a week off after three in a row before that," Knox said. "I'm pushing it to the limits here. I'll play nine out of 10 weeks and no one likes to do that but when you're playing well it's much easier for sure because you have adrenalin."