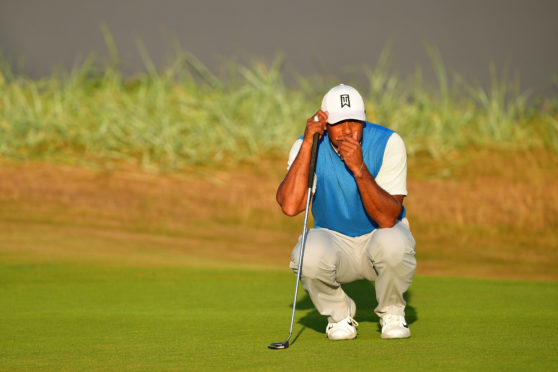 Tiger Woods believes he proved during his opening round at Carnoustie that he is capable of contending for the Claret Jug this week.
The 42-year-old, playing in the event for the first time for three years, shot a level par 71 during the toughest conditions on day one of the 147th Open championship.
The galleries were jam-packed when Woods teed off and he didn't disappoint. A sublime approach at the first set up a 10-foot birdie putt which was calmly converted.
Woods, playing with tape on his neck, picked up another birdie at the fourth before dropping three shots on the back nine as well as another gain at the 11th.
But this was a day when the positives outweighed the negatives for Woods and the former world number one will hope to signal his intentions by shooting a low round today to move closer to the top of the leaderboard, currently occupied by Kevin Kisner after his five-under 66.
Woods said: "I was watching the board and the guys weren't doing much in the afternoon. I felt shooting under par would be good and I got off to a great start.
"It looked like I could do something, unfortunately it didn't quite turn out that way.
"But, as part of the afternoon wave, I was one of the lower rounds."
Playing partner Knox admitted to being starstruck while playing with Woods for the first time and said the 14-time major winner did little to ease his nerves.
He said: "He wants to beat me. I'm a threat to him. I could make him not win this tournament.
"I didn't expect him to help me through or whatever. He's trying to bury me by 20 shots as I'm doing with him.
"I wanted to chat with him a little bit. I thought 'I'm out here with Tiger for five hours, might as well talk to him'.
"It's kind of a blur, to be honest. I was chatting away with Tiger like it was normal but I don't even remember what I was saying."
Woods appeared surprised when he heard of Knox's struggles.
He said: "I don't know how nervous he can be. He just won last week, right?
"He's playing well. We're in a major championship so obviously, we're all nervous.
"We all have to battle those nerves and this golf course. It's not easy.
"I've got my own business to take care of.
"I'm grinding, trying to figure out how to play this golf course. I'm trying to shoot the lowest round I possibly can and he's trying to do the same thing."