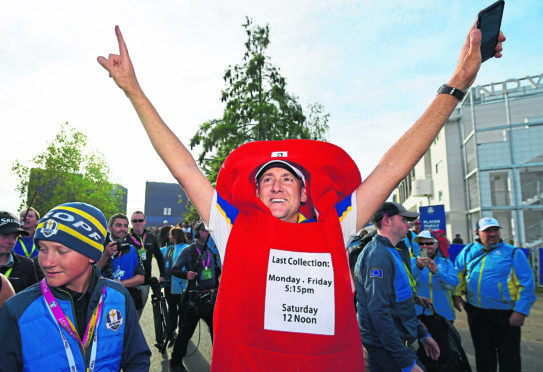 Riding the passion of the perennial Ryder Cup hero Ian Poulter beating the world No 1 and the new star Jon Rahm taking down the greatest of them all, Thomas Bjorn's Europe withstood a mid-afternoon wobble to reclaim the Ryder Cup amid ecstatic scenes at Le Golf National.
Poulter's final hole victory against Dustin Johnson and Rahm's victory over Tiger Woods proved the significant wins to settle some fairly frayed nerves as the red tide promised from the US started to gather.
But the dam never broke with Poulter and Rahm – as well as rookie Thorbjorn Olesen beating Jordan Spieth – filling up the cracks after Rory McIlroy, Justin Rose and new hero Tommy Fleetwood had all been defeated.
In the end, Europe cruised home by 17∫ to 10∫, as comfortable a win either side has had since the dual record routs of 2004 and 2006.
There was no winning putt moment but arguably it was something even better.
With Francesco Molinari dormie three and in the middle of the par three 16th green, Phil Mickelson, dunked a half-shank into the water and conceded the point without leaving the tee.
In truth, Poulter's final hole win over Johnson, Molinari's dormie and Sergio Garcia going dormie two against Rickie Fowler meant Europe already had the 14 and a half points needed.
It was fitting for Molinari to take the final concession, leaving the Open champion as the first European to play and win all five sessions of a Ryder Cup.
Rahm's triumph over Woods – he never trailed and won 2&1 – confirmed the Ryder Cup struggles of even a resurgent Tiger continued.
For Bjorn, it was triumph of his strategy and planning.
With Rahm and Olesen's handsome and significant singles victories over quality opponents, everyone on the team made a contribution to the points total.
Furthermore, his faith in Garcia – out of form all season but selected anyway – was entirely justified.
Bjorn's four wildcard choices gave him nine and a half points, while Furyk's four picks brought him just two.
It was a slow burner of an afternoon, with European comfort of a four-point advantage turning to considerable anxiety for an hour and half but finally, through the screaming celebrations of Rahm and Poulter, to joyous conclusion for those in blue.
The top match was supposed to be pivotal but McIlroy lost it in deflating fashion, while Webb Simpson beat Rose 3&2 and Tony Finau routed a tired Fleetwood 6&4.
Paul Casey halved his match with Brooks Koepka to settle European nerves before Poulter claimed the scalp of Johnson by winning at the 18th.
Shortly before, Rahm holed out for birdie to beat his childhood hero Woods on 17. Olesen finished off Spieth 5&4 and Garcia's chance of being the man to secure the winning point against Fowler went when he found the water at 15.
Instead it was Molinari, who had never won a Ryder Cup match until this week, closing out his fifth point of the week against Mickelson and Garcia got his point shortly after.
Henrik Stenson and Alex Noren added the embellishment with further points.