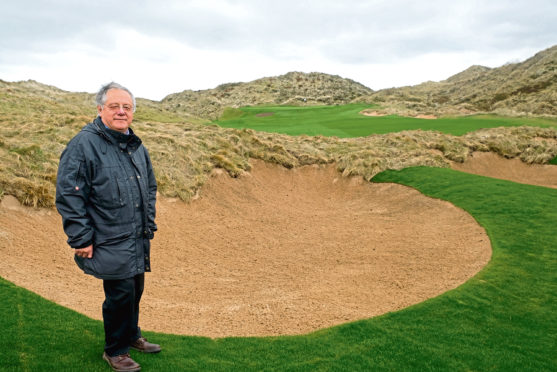 The architect who designed Trump International Links on the outskirts of Aberdeen remains hopeful the course will get the opportunity to host one of golf's larger events.
The course was tipped as a potential host for the 2019 Scottish Open but The Renaissance Club in East Lothian was given the nod and will host the event for the first time this July.
Two years ago, Martin Gilbert – then the chief executive of title sponsors Aberdeen Asset Management – said the Trump course would be "an ideal venue" but claimed "politics" would deter the European Tour from taking the Scottish Open to the Menie Estate in the immediate future.
But Dr Martin Hawtree, the renowned golf architect who designed the course, believe the links would be perfect for a European Tour event.
He said: "I think it would be very good to get a big tournament here. A match-play event would be very successful.
"A European Tour event would be a terrific way to bring it to a wider audience.
"It could only be a good thing.
"Now is the time to start going for it.
"I have had a few people come up to me after playing the course and say it is one of the best days of golf they have had.
"That makes me very happy."
Hawtree was visiting the course to inspect the work carried out on improving the bunkers around the links, which he believes will enhance player experience.
He said: "The first thing players will notice is a visual difference.
"Although they will be easier to get out of, they will be visually quite intimidating.
"I think the course is maturing very well. It probably opened a little bit too early and took a few years to blend in.
"But the new bunkers will make it more enjoyable.
"This course is very high up there in terms of the work I have done. I had a huge amount of enjoyment.
"I enjoyed working with Mr Trump. He was always asking questions which keeps you on your toes. I enjoyed that."
The Trump Organisation's planning application for 500 homes was discussed by the Formartine area committee yesterday and is expected to go before full council on April 25.
Dr Hawtree hopes the original vision for a second golf course at the development can be realised.
He added: "I think if they get permission for a major development, a second course would be very useful.
"It would be a very different course.
"There would be elements of links as well as other courses.
"Perhaps it would be easier to play and less tense than the one at the moment.
"I think it would be a good compliment."