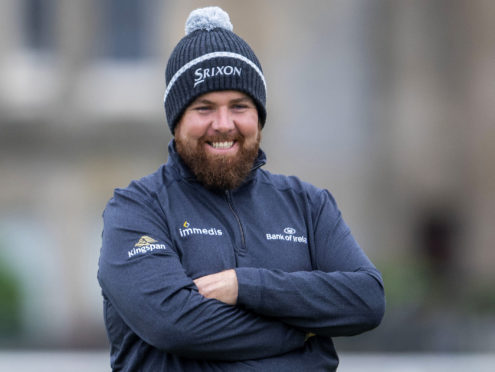 Open champion Shane Lowry paid tribute to his Scottish coach Neil Manchip as he geared up for this week's Alfred Dunhill Links Championship at St Andrews.
The Irishman claimed his maiden major with a six-shot victory at Royal Portrush in July.
The unassuming 32-year-old, however, was keen to praise the part Edinburgh man Manchip has played in his Claret Jug success.
He said: "If people were to ask me who has been the biggest influence on my professional career, I would say Neil.
"Not only is he a great coach for me, he's just a great person to have around. He's one of my best friends. And, no matter what happens, he will always be part of my team because he's a really good person to have around.
"He's so laid back, he's very positive. I can't emphasise enough how good he is to have in your camp. I owe a lot to him and the relationship we have formed over the years. He understands the way play golf and the way I go about my practice.
"I feel that if a different coach had got his hands on me when I was younger, it might have been different. I feel very lucky to have met Neil around 15 years go."
As well as working as Lowry's coach, Manchip is held in high esteem for the work he has carried out as national coach of the Golfing Union of Ireland.
Scotland's loss has been Ireland's gain and Lowry says there is no chance of Manchip returning to the home of golf.
He said: "Absolutely not. He's lived in Ireland longer than he has lived in Scotland. He's not far off getting an Irish passport and I know he wanted to be Irish on Sunday anyway (in reference to Ireland's victory over Scotland at the Rugby World Cup).
"We have been very lucky the last 10-15 years in Ireland with a lot of major winners. We've probably not go as many golfers on tour right now that we'd like and they have got a bit of stick for that, but it is incredibly difficult to get out here. That's what people don't understand.
"Every couple of years they are getting players in the Walker Cup and they are winning tournaments as amateurs and I feel that what Neil has done for Irish golf over the years has been great."
Lowry has taken the Claret Jug with him to St Andrews, the home of the Royal and Ancient Golf Club, as well as a club from his Royal Portrush triumph to donate to the British Golf Museum.
When asked about arriving at St Andrews as the Open champion, he replied: "It's pretty cool. I've got the trophy with me this week and I might sneak out on to the 18th green to get a picture at some stage. The R&A is here, the golf museum and I've got the club with me that I am putting into the museum.
"I'm staying in a house by the 18th here and they've got a lot of golf memorabilia.
"There's a picture of the champions' dinner in 2010 and the one thing I'm looking forward to about being an Open champion is coming back in two years' time for the champions' dinner – that is going to be cool.
"I'm giving my lob wedge to the British Golf Museum as it got me out of some tricky situations. I didn't have too many wonder up and downs that week as I played good golf, but I hit a great shot to eight feet into the 15th on Sunday to make birdie and put me six ahead with three to play.
"I don't find it hard to part with it, but a little fella asked me for my putter last week and I was like, 'are you joking me'."