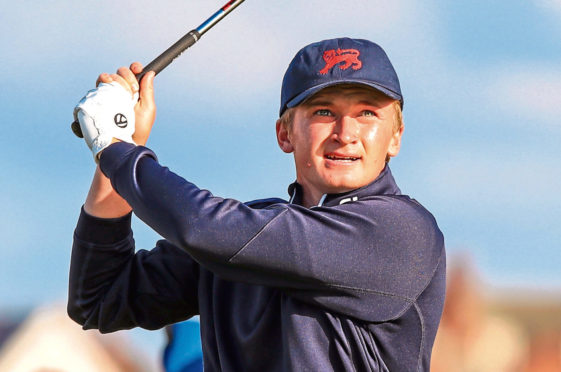 Four years in the US have geared Sandy Scott up for this moment.
The Nairn golfer has proudly flown the Texas Tech banner as a student-athlete, enhancing his sporting prowess while studying alongside his time on the course.
Once the degree is obtained and the semester finished, Scott will return back to his native Highlands to start his career as a professional.
Following a similar path to Scottish pro and former WGC winner Russell Knox, who was a member at Nairn Dunbar and Inverness before studying and playing in Jacksonville, Scott will hope to build on an impressive amateur career when he makes the transition to the pro ranks.
But while the transition will be significant, Scott does not want to make major changes.
"I love going back home, seeing friends and family and going back to the golf club," he said. "I don't plan on changing too much. I want to keep the transition as simple as possible.
"I've had great information from my coaches that a lot of guys find it tough in that transition, because they try to change a lot of things. The less change, the easier it is going to be to play at your level and compete with guys on the professional circuit."
Scott is ranked in the top 10 amateur golfers in the world and is in contention for back-to-back Arnold Palmer Cup selections, with his Red Raider team-mate Ludvig Aberg already selected for the international side. The final squad announcement is due to be made on March 25, for the tournament at Lahinch Golf Club in July.
"It's such a prestigious event to play in, to be picked would be another honour," added Scott. "I'm proud of where I'm coming from and my achievements to date. Rankings are just a reflection of your form and how much you've improved."
Texas Tech have enjoyed a promising season, winning the Carmel Cup, Inverness Intercollegiate and Big 12 Match Play, which has put them in post-season contention. Scott has also been completing his University Studies degree, which consists of three minors of kinesiology, general business and integrated studies.
Scott said: "I love being part of a team, especially in golf. You're always going to have team elements in there as an individual professional.
"Being part of a team is fantastic as you have guys to root for and learn from each other."
When the time comes to pack up and head for home, the four years' work he has put in will hopefully prove worthwhile.
He added: "It seems like a lot of stuff to prepare for.
"As tedious as it seems, the end product of being a professional golfer is great."