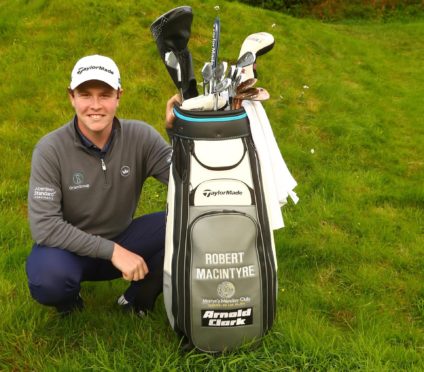 Oban's Robert MacIntyre will donate $3,500 for every birdie he makes at next week's US Open to an emergency storm damage fund created by his former university in Louisiana.
Hurricane Laura has inflicted widespread damage on the McNeese State University and the surrounding Lake Charles area, where MacIntyre previously spent 18 months on a golf programme.
With a number of his friends living in the area, MacIntyre has liaised with his three main sponsors, Orion Group, Aberdeen Standard Investments and Arnold Clark, to provide a donation for every birdie, or better, he shoots at his US Open debut at Winged Foot.
Inspired by his own upbringing, MacIntyre's affection for the areas affected has prompted him to do his bit to help the cause.
MacIntyre said: "I've got a lot of friends who still live out there and I saw when it was coming into hit. I saw it on social media, coming into hit right on Lake Charles.
"Following that, I have seen the devastation caused by it. I've got some pals out trying to clean it up just now.
"I come from a family background and my mum supports so many folk from around this area, trying to help them, whether it's just going to get their shopping or other little things.
"With the background I've been brought up in, I now have the opportunity to help others.
"I'm in a position where I can do this – and I felt like it was the right thing for me to do."
Having seen pictures of the devastation which has been caused in Louisiana, MacIntyre has extra motivation to perform well in next week's major.
The 24-year-old added: "I feel that the COVID situation we're in at the moment is bad enough without getting hit with a hurricane.
"That's devastating to be hit with two things at once like this.
"They're trying to fix everything they can and I'm just trying to support them.
"There's a big refinery literally about a mile outside of Lake Charles that's been leaking chemicals and everything.
"It's not just flattened houses. It's businesses, the full lot. The whole place shut down there for a bit.
"It's starting to come back with people coming together and helping each other to rebuild, clearing things.
"I can't be there to help, I've got to do my job. If I do my job well, I'll raise as much money as I can.
"It's not going to be a big life-changing amount for folk. It may just be enough for them to tick over.
"Hopefully I can make a few birdies for them because every little helps.
"I feel like Lake Charles and Louisiana are in need of some help. And I'm in a privileged position where I can do this kind of thing."
MacIntyre credits his time at McNeese State University with being a major influence in his successful rise as a professional, which saw him become European Tour rookie of the year last season.
The Scottish number one added: "I only did a year-and-a-half. But I learned so much. It was one of the biggest learning curves of my life.
"I was a boy brought up at home. My mum pretty much did everything for me.
"Then I got thrown out to the Deep South in Louisiana, where I had to do everything myself.
"I think that's made me who I am now. Travelling the world on my own, I can do that kind of thing because of that experience.
"It's part of growing up and it was a huge step in my golfing career."