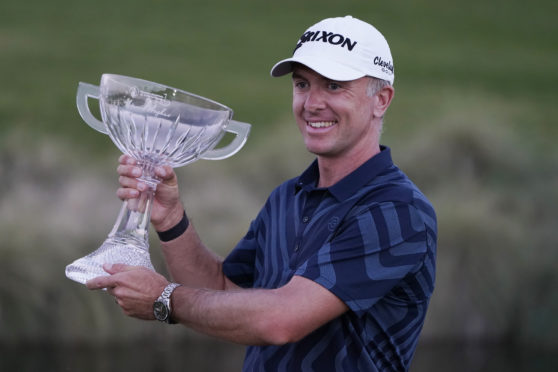 I was thrilled to see Martin Laird return to winning ways on the PGA Tour.
The 37-year-old ended a seven-year wait for victory by beating Austin Cook and Matthew Wolff to win the Shriners Hospitals for Children Open in Las Vegas.
It is an event that suits his style as he won his maiden PGA Tour event there in 2009 and was beaten in a play-off the following year.
I sent him a message to congratulate him as we played together in a couple of World Cup events. He is a great guy.
His victory shows how important it is to keep persevering and maintaining that belief in yourself and your game.
He has had to deal with injuries and a dip in form over the past few years, but he is a multiple winner on the PGA Tour, which shows how talented he is.
It wasn't that long ago he was ranked 21 in the world and he is already talking about trying to force his way into the Ryder Cup picture after his victory.
He possibly doesn't get the credit he deserves in Scotland, but that is only because he is playing abroad and we don't get to see that much of him.
It is a similar case with Russell Knox.
We all know how good a player Martin is as he has won some great events.
He has adapted his game to play on the PGA Tour and his high ball flight gives him a real chance to do well over there.
I was also very impressed with the way Tyrrell Hatton closed out a four-shot win at the BMW PGA Championship at Wentworth. His statistics for the week were unbelievable and his reward was a place in the top 10 of the world rankings for the first time in his career.
When he gets in front at an event, he looks so comfortable.
There is no reason why he can't win one of golf's big four events.
He will be looking at the Masters coming up at Augusta and fancying his chances.
There was quite a lot of debate about the hoodie that Tyrrell wore during the competition, but I didn't understand the fuss. Golf has to get away from that stuffiness and strictness over dress codes.
At my foundation events, the kids can turn up wearing whatever they want.
But I'm sure the manufacturers were happy that the hoodie drew so much attention, especially with Tyrrell going on to win the tournament.
Cameron deserves his chance to shine
Good luck to Peterhead's Ross Cameron, who is teeing up in a European Tour event for the first time this week.
The 41-year-old has enjoyed a great spell on the Tartan Tour with wins at the Scottish PGA Championship and the Northern Open.
He deserves his spot in the field and hopefully he has a great week. He has Ladies European Tour player Michele Thomson as his caddie this week and I'm sure she will give him plenty of support.
This will give him a good idea of what he has to do to play on the tour regularly. I'm sure he will hope to have more starts in the future.
He is clearly a good player and in form, so there is no reason why he can't do well this week.
I'm also playing the Scottish Championship, which gets under way at Fairmont St Andrews today.
The course is in excellent condition, especially the greens. They are possibly the best we have played on all year.
We've got a good field for the event and I've really enjoyed the recent run of tournaments in the UK.
Tour doing good job with Covid measures
We had a couple of withdrawals in golf this week due to positive coronavirus tests and that comes as no major surprise.
World number one Dustin Johnson had to withdraw from the CJ Cup after testing positive for Covid-19, while Jbe Kruger is missing the Scottish Championship for the same reason.
The international football over the past week has seen a spate of cases, with Scotland's Stuart Armstrong and Portugal's Cristiano Ronaldo among them. It is inevitable for that to happen when you have players travelling across Europe and the rest of the world to play matches.
Thankfully we haven't had many cases on the European Tour and they are doing a great job with their protocols.
Everyone is socially distancing and wearing masks and the bubble they are using for tournaments seems to be working well.
My daughter is actually self-isolating at the moment because someone at her school tested positive, so she is going to have to spend 14 days at home.
It shows how easy it is for the virus to spread while the number of cases are on the rise.
It is a major concern for everyone, but we all just have to be as safe as possible and play our part in helping keep it under control.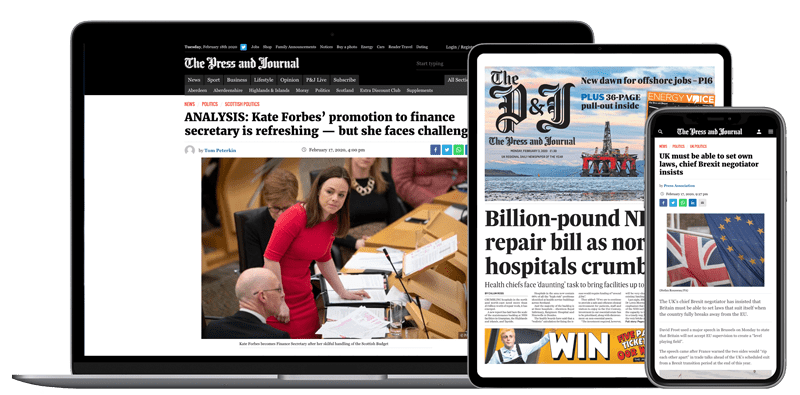 Help support quality local journalism … become a digital subscriber to The Press and Journal
For as little as £5.99 a month you can access all of our content, including Premium articles.
Subscribe