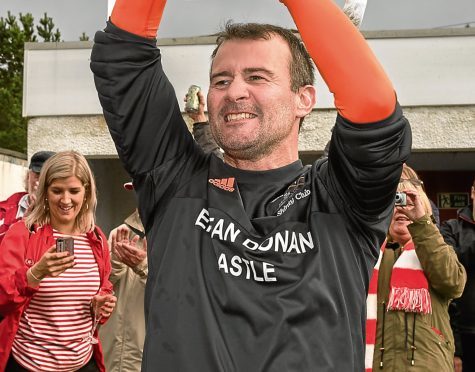 Goalkeeper Scott Kennedy is considering his future after skippering Kinlochshiel to the title and stepping up to collect the championship trophy.
The 43-year-old, who started with Shiel at 14, said: "This isn't the end, it's just the beginning for our team. Next year the lads will be fitter and better than they have ever been.
"But it may be without me. Retiral is in my mind after the honour of collecting the cup for my team. I'll take a couple of months to think things over before a final decision."
Pressure will certainly be applied from his team-mates for Kennedy, who has had an outstanding season, to keep going.
"For a small club like ours to be Premiership champions is beyond all expectations, it's simply incredible," said Kennedy. "The players deserve it for their commitment and dedication.
"But we couldn't be here now without all those who played for us in recent years, good players who played during hard times for the team. All those who coached the side in those years must also be remembered and given credit.
"We played Newtonmore, Kyles Athletic, Oban, Lovat at Kingussie, the best teams in the league, and they all failed to beat us. It's a wonderful achievement."
The captain added: "We had a bit of a blip early in the season when we went out of three cups in four weeks. That was a downer but, as it turns out, it was probably a bit of good luck for a club with such a small squad.
"It allowed us some time to get over our injuries and to focus on the title.
"At half-time at Oban, and still 0-0, I was hugely nervous, knowing that one mistake from me and we'd lose the championship. But our defence has been superb all season.
"When our third goal went in, I could relax and reflect on how far we've come. And how, when the title was on the line, Kinlochshiel stood up to be counted."