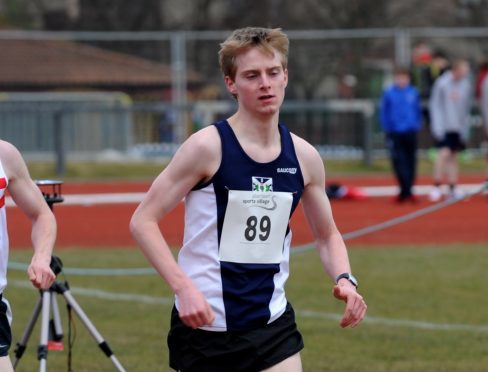 A mere two seconds prevented Michael Ferguson from becoming only the sixth Aberdeen runner since World War II to win the Scottish universities and colleges cross country men's title.
Glasgow's Sol Sweeney, running on his home course at Garscube estate, pipped the north east athlete for top spot after a close tussle over the 9km course.
Sweeney completed the route in 28min 37secs with Ferguson coming through in 28:39. Aberdeen runner Alexander Chepelin, a Great Britain junior orienteering international representing Glasgow University, finished third in 28:58.
Aberdeen AAC's Callum Symmons, 29:08, finished fourth to join Chepelin and seventh-placed Euan Gillham, 29:15, in the Edinburgh University side which clinched the team title for the 29th time in 31 years.
Ross Gollan, a member of East Sutherland AC, finished fifth in 29:09 and helped Glasgow take team silvers.
Aberdeen's Zoe Bates picked up individual bronze in the women's race when completing the 6km course in 23:43 while Edinburgh's Laura Stark won in 22:59 with her team-mate Beth Hanson runner-up in 23:43.Shetlander Katie Bristow (University of the West of Scotland) was fifth in 24:01.
Edinburgh comfortably won the team title for the seventh year in a row with fourth-placed Amy Frankland, 23:55, completing the scoring.
Aberdeen finished second with Bates backed up by Hannah Addison (14th in 24:43) and Caitlin Arnott (15th in 25:16).
Ally Beaven (Highland Hill Runners) defeated three-time previous champion Gordon Lennox (Inverness Harriers) to win the senior men's title in the Scottish North District championship Knockfarrel hill race at Strathpeffer.
Beaven completed the course in 40min 44secs to finish 28secs ahead of Lennox while Robbie Paterson (Moray Road Runners) was a further seven secs behind in the bronze medal position.
Jack Trevelyan (Highland Hill Runners) was first over-40 in 42:57, Alec Keith Hunters Bog Trotters) took the over-50's prize in 43:36 and Hamish Hickey (Ross County) was the leading junior in 43:54.
Kirstie Rogan (Moray Road Runners) won the women's title when recording 50:38 with Rachel Armitage (Aberdeen AAC) second in 52:02 and Hilary Cameron (Forres Harriers) third and first over-40 in 53:03. Lucy Heycock was first over-50 in 63:07.
Jim Tole (Metro Aberdeen) won the men's six mile race in the opening round of the Running Shop winter cross country series at Knockburn Loch near Banchory.
The veteran runner completed the course in 35min 13secs while Fraser Drummond (Newburgh Dunes) was second in 35:40 and David Marshall finished third in 36:56.
Veteran Veronique Oldham (Aberdeen AAC) led home the women's field in 42:02 with Petra Hampton (Metro Aberdeen) second in 43:07 and her clubmate Kirsty Harper taking third in 46:13.
Aberdeen AAC's Jack Gillespie won the accompanying three mile race in 17:35 with his clubmate Kirsty Oldham first woman in 20:27.
Central AC's Lewis Millar won Eddie's half marathon at Fort William when posting a time of 1hr 12min 32secs to finish ahead of Denis Prikulis (Vegan Runners), 1:14:36 and Peter Currie (Dumbarton AAC), 1:17:45.
Dumbarton runners filled the top three positions in the women's race with Lindsey Currie winning in 1:27;24, followed by Charlene Kelly, 1:28:21, and Vigil Marie Garcia, 1:30:50.