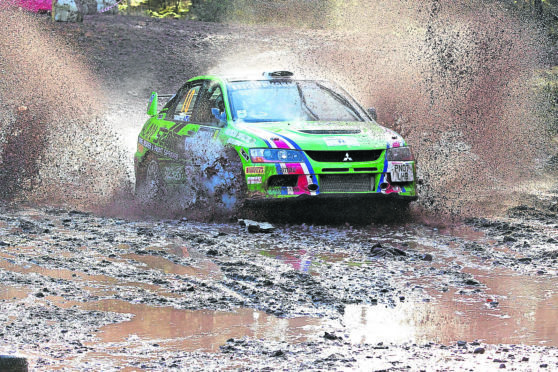 Conon Bridge driver Ross MacDonald has every reason to believe luck can be on his side when he takes part in Saturday's Snowman Rally in the Highlands in the same Mitsubishi Evo 9 that won the event two years ago.
MacDonald's work colleague at Culloden car sales, Donnie MacDonald, triumphed in the Snowman in 2016 to record the first victory of his career.
Ross MacDonald was left without a car after selling his Mitsubishi Evo 8 this year. But Donnie, who is now driving a Ford Fiesta R5, stepped in to help.
Ross said: "I sold my own car at the start of the year, so I'm delighted Donnie has kindly given me a loan of his one.
"This will be my eighth Snowman but I have never competed in a car like this. The past couple of years have been all right. I have been 17th in the last two years.
"Before that I was in a lesser car, so I was further down the pecking order. It would be nice to go up a bit further.
"My target is always just to finish and see where it takes me. I would love to be in the top 10 but I think that might be quite hard. A top-15 place would be a good result."
Ross will be joined by co-driver Matthew Johnstone, from Inverness but now living in Aberdeen, but he says fourth-seed Donnie has been influential.
Ross added: "If it wasn't for Donnie I probably wouldn't be rallying and I would probably have a lot more money.
"He has been a big influence, though. We first met many years ago. He's a friend of my father who is now business partners with him.
"I have always been into cars. Anything with four wheels has been of interest to me from a young age. It was all about cars and I did my time as a mechanic, although I'm into the sales side with Donnie now. I have always been working with cars in some sort of form, although I don't miss the mechanic side. It's handy having the knowledge, though."
Ross is unable to commit to anymore events in the Scottish rally championship season ahead of his wedding to partner, Emma, this summer.
He added: "It will be few and far between this season – the wedding has put a big dent in the budget.
"That's the main focus this year.
"I sold the car because if I wasn't going to use it, there was no point in it sitting there.
"I couldn't miss out on the Snowman, though. I might do another couple of events later in the year but it will depend on how things go."
McCombie is hoping for high fives in title run
A top-five finish in the Scottish rally championship would represent success for Banchory driver Bruce McCombie.
Alongside co-driver Michael Coutts, McCombie will be the fifth car starting in this weekend's Snowman Rally in Inverness. The race acts as the season opener for the 2018 Scottish rally championship.
McCombie and Coutts have fared well in the Highland capital in the last four seasons, recording top-10 finishes on each occasion in their Mitsubishi Evo 9. Their best finish came in 2015 when they were runners-up behind Jock Armstrong and Paula Swinscoe.
They finished the 2017 championship in 15th place and, while financially the odds are against them, McCombie hopes a good start on Saturday can set them up for a promising campaign.
He said: "With the guys who are there this season, if we can finish in the top five it would be good. We've had the Evo for a while and, touch wood, it's been ultra-reliable, but it just doesn't have the legs to keep up with the WR5 and WRC cars. We need a lottery win to move into that category. But you've to go for efficiency.
"We've had some good results in Inverness. Hopefully, the bigger cars have some issues but you don't want to win it like that, you want to be fair."
While a few familiar faces are missing from the field, McCombie added that he is impressed by the strength of the entry list. The 2017 SRC champion Euan Thorburn has not entered and five-time title winner David Bogie is focusing his efforts on the British rally championship.
McCombie added: "It could be an interesting championship this year. I would think Garry Pearson will be the favourite but I'd like to see Donnie MacDonald do well."