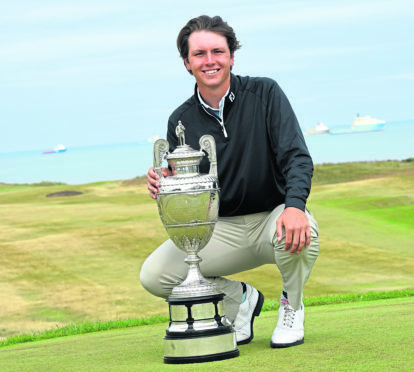 Jovan Rebula became the first South African to win the Amateur championship in 52 years after defeating Irishman Robin Dawson 3 and 2 over 36 holes at Royal Aberdeen on Saturday.
The 20-year-old achieved something his uncle, four-time major winner Ernie Els, never managed to do during his amateur career.
The closest Els got to the trophy was in the 1988 final when he caddied for Ben Fouchee at Royal Porthcawl when he was defeated by Swede Christian Hardin.
Rebula followed in the footsteps of 18-year-old Bobby Cole, the last South African to lift the trophy, at Carnoustie in 1966.
After being presented with the silverware the 20-year-old said: "I'm overflowing with joy and happiness. I'm very thankful for everyone who has been involved in my life and those who supported me and gave me this opportunity.
"The front nine was my favourite this week. Throughout my matches I've been up through the front nine and then found the back nine a little bit tougher.
"It's been a wild and a very tiring week and the golf course has been in immaculate condition."
Rebula can now look forward to teeing up at next month's Open at Carnoustie.
He said: "Growing up in South Africa, the Open championship is the major you want to play in. I've never played Carnoustie but I have heard how brutal it is. I'm just going to go out there and enjoy every second of it."
Beaten finalist Dawson said: "I didn't play particularly well on the front nine then it got really windy.
"All-in-all, it has been a decent week. If you'd asked me at the start of the week I would have probably taken finishing runner-up but when you get so close it is frustrating."
Rebula won three holes in a row from the sixth to the eighth to before Dawson battled back to one down before the South African extended his lead to two at the 14th.
The Irishman's slow, deliberate style contributed to the first 15 holes taking three and a half hours, prompting match referee, former Curtis Cup captain Clare Dowling, to warn Dawson about his pace of play. That ticking off spurred Dawson to eagle at 17, reducing the halfway deficit to one hole.
Rebula then piled on the pressure, winning the 21st, 22nd and 23rd holes to go four up before conceding the next. By the time they'd reached the turn, Rebula extended his lead to five before Dawson rallied by winning the 31st and 33rd holes.But the South frican closed out the match on the 34th green to win 3 and 2.