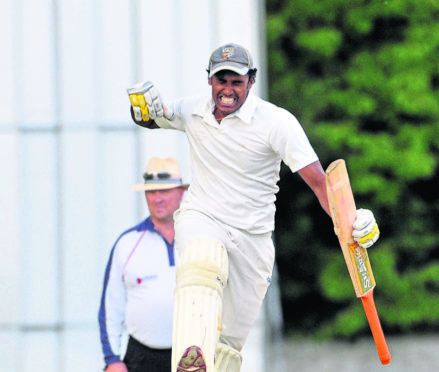 They are trailblazers who are more interested in the trail than the blazers.
Falkland are on the march again in the National Village Cup cricket tournament and will face their latest challenge when they tackle East Ardsley, from Wakefield, West Yorkshire, in Fife on Sunday.
It promises to be a memorable occasion at the picture-postcard setting of Scroggie Park, one of the most resplendent grounds anywhere in the game.
Falkland aficionado Paul Watson, who has worn more hats than Audrey Hepburn – as player, captain, organiser, committee member, past president and volunteer – is relishing the challenge.
He said: "Reaching the last 16 of the tournament is no mean feat and our minds will be cast back to 2015 when we travelled to Yorkshire in the last 32 to beat Ouseburn and then on to Stockport in the last 16 to play Hawk Green.
"Having home advantage means we can really shine the spotlight on cricket. The place will be buzzing and you can sense that people are already getting excited.
"Preparation is well under way and we expect a large following from England and our own bumper crowd of locals to cheer us on."
The Fifers have an indefatigable determination to spread the gospel and their infectious attitude is contagious. You get the feeling that some Scottish clubs would like to have their telephone number unlisted, but not in Falkland's case.
As Watson said: "We are very much part of the local community and have a reputation for being welcoming. We have excellent relationships with local groups as well as individuals and growing support from local business and sponsors. We are keen to make cricket more accessible to the community and are working hard to persuade men and women, boys and girls to try out the game and sample the delights of Scroggie Park.
"If you couple this with the work we do in the schools which feeds into the Falkland Falcons, we are doing our utmost to market the club properly as somewhere people want to come, visit and hopefully join."
Watson and his confreres used to dwell in the shadow of Freuchie, who won the cup at Lord's in 1985. But they admit they were inspired by the heroics of their neighbours more than 30 years ago.
Watson said: "What Freuchie achieved was fantastic and it is always a great talking point when we meet up with them. But times have changed. We've broken the shackles of being 'in the shadow of Freuchie' and gone about things our own way and are now making our own stories.
"Will that end up in an appearance at Lord's? We'll give it a real good go. There are plenty of wonderful characters around the Scroggie Park environs, men and women in love with the sport and who fling themselves into their endeavours with whole-hearted ebullience.Our president Robbie Nellies is 'Mr Falkland cricket club' – he is the driving force behind a lot of what we do and we are lucky to have a 20-strong committee who help with the general running of the club.
"Sri Lankan professional Harsha Cooray has been a breath of fresh air on his return to Falkland after his sabbatical in Aberdeen. He has a deep love for the game and has been a real asset, both on and off the pitch. We have some great and very talented boys and girls."
The ground will be packed on Sunday. Why not join them for some more grassroots glory hunting?