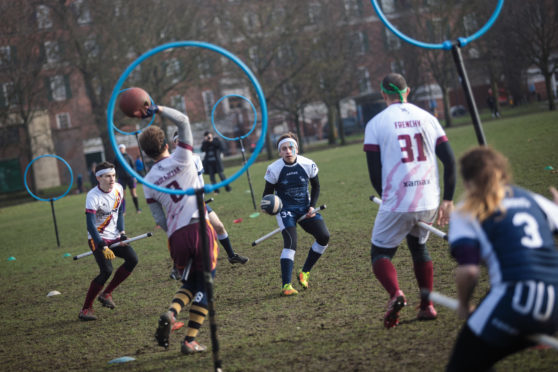 It's a game brought to the big screen thanks to CGI wizardry in the Harry Potter series by JK Rowling.
But now Quidditch has become one of the world's fastest-growing pursuits, with more than 20,000 players across the world sitting astride a broom. It even has its own Premier League competition.
What's more, the Scottish Thistles will be involved in the QPL for the first time when they host their inaugural series of matches at The Meadows in Edinburgh tomorrow.
And their manager and coach, Gavin Hughes, is hopeful that the debutants can prove their mettle in the frantic world of chasers, beaters, seekers, quaffle, bludgers and snitch.
For the uninitiated, a quidditch team consists of 21 athletes with seven players per team on the field at any one time.
That includes a keeper, three chasers, two beaters and a seeker, all pursuing the snitch, which is a sock with a tennis ball in it, attached to an athlete's shorts.
When he or she – Quidditch is very much a mixed-gender sport – is caught by either team's seeker, the contest ends.
It might sound peculiar, but Mr Hughes regards it as a serious activity and has been spurring on his players, who feature Aberdeen's Brodie West and Ross Wiseman from Inverness among their number.
He said: "This is our chance to do Scotland proud on home turf and we intend to fight for every inch of the game.
"We know we will be the underdogs after entering the QPL, but that's not unusual when it comes to Scottish sides on the international stage and we are determined to play with absolute freedom.
"There's a grand final at the Arms Park in Cardiff on August 25 and we know it will be difficult for us to be involved.
"But we plan on making life difficult for opponents and, as far as we are concerned, they have everything to lose in the weeks ahead."
The participants come from all over the UK, including the London Monarchs, Welsh Dragons, Yorkshire Roses, East Midland Archers and Southeast Knights.
And while they don't have the opportunity to soar into the clouds, a-la Daniel Radcliffe in the Potter books and movie series, Ms Rowling has given the QPL her seal of approval.
Which, as Mr Hughes declared, is pure magic.