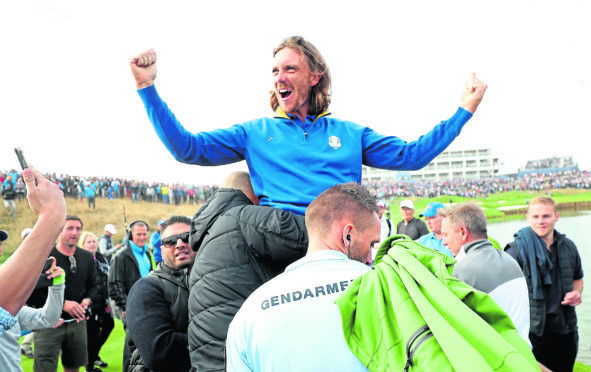 The path to Europe's handsome 17.5-10.5 Ryder Cup victory was set when the team were at their lowest ebb – 3-0 down on the opening morning, according to captain Thomas Bjorn.
Francesco Molinari and Tommy Fleetwood went on to record four wins as a tandem while the Open champion became the first man in European team history to go 5-0 in a Ryder Cup – but the first point the Italian and Englishman produced was key.
"It was a pivotal point, there's no doubt, because for those guys who experienced 4-0 at Hazeltine (where Europe lost the opening session of foursomes and never recovered), they know how difficult that is and they know what a big uphill battle it was from there," said Bjorn, who was not feeling any after effects from the European celebration party.
"At 3-1, it's not great but it's not a disaster. That point was key, and it's typical that it's a rookie (Fleetwood) who holes those putts because he doesn't know the consequences of where we're going if we lose it.
"Rookies have their strengths in a Ryder Cup because they just go and do it, while some of the experienced guys in that situation may be a little bit, 'it's on my shoulders' and that can be too big for anyone.
"It didn't surprise me that it was somebody like Tommy, and he still won't have any idea of the consequences after The Ryder Cup he's had, he'll think it's too easy. But we all find out in time, I guess."
As for Molinari, he delivered in so many ways for Bjorn.
"He's such an underrated player and he has been for a long time," said the captain. "I think the qualities he's got, now he's got the confidence, he can do anything.
"He showed that this week. He took on the best players in the world and proved he is one of the best players in the world, and he showed he's equal to the task."
Bjorn admitted he was concerned about Molinari when he chose to play the minor John Deere Classic event in the USA the week before the Open Championship at Carnoustie.
"I spoke to him about it because I wondered if it was the right move. And he said, 'I have to do this for how my year's planning out, but I promise you I will make this team'.
"I was worried because I really wanted him on this team. The way he fits in foursomes and fourballs, on this course.
"The night he wins the Open, he texts me 'Is that good enough for you?'"
Bjorn considers the best decision of his captaincy was his wildcard picks, utterly vindicated as they brought nine and a half points of the team total.
"Well, they delivered, but that was not down to me, it was down to them," he said.
"It was so much easier for me to put plans together with them because I know them so well, how they work, what makes them tick, what makes them do the right things, so we could lay out plans for them and then go with that.
"That's more to Henrik (Stenson) and Sergio than the other two. Henrik knew for a long time that he was going to be on this team because he likes structure and he likes to know what he's going toward.
"I told him, be prepared to play two foursomes and he goes and delivers three out of three points at 42.
"It's a pretty impressive thing to do when you've not had the greatest of seasons."
Garcia had maybe the worst season of anyone ever picked for a wildcard, but Bjorn never lost faith.
"I called him before selection I called him and said, if I play you four times, how many points are you going to give me, and he said three," he said.
"I knew I wanted him on the team, and I was pushing him. I wanted him to know this was not an easy choice because I wanted him on the team for everything he brings, but there were guys that played better.
"I felt if I give him a pick, then that would boost him to go on and do things.
" You've got to remember, because he won three out of four this week, he's now the all-time points scorer for Europe.
"That takes some doing, because we've had some really good players down the years who won a lot of Ryder Cups.
"It says a lot about him."