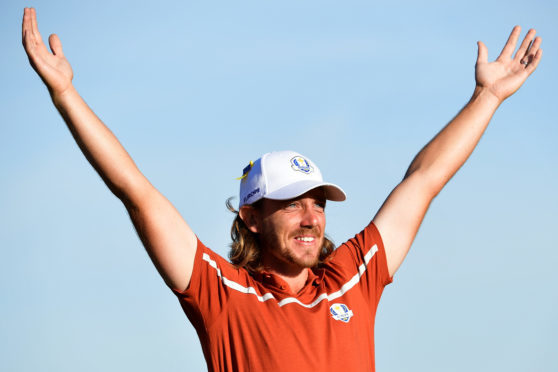 Tommy Fleetwood can be forgiven for still feeling as if it is the morning after the night before as he tries to channel the excitement of the Ryder Cup into his solo target of winning the Dunhill Links Championship.
The Englishman was a rookie sensation at Le Golf National as he won four points out of five for Europe alongside his friend Francesco Molinari and he joked he was missing his Italian pal at St Andrews yesterday.
He said: "Separation anxiety is high right now. I sent Fran a text last night to say I missed him and I haven't spoken to him this morning so it's a struggle.
"I haven't really come out the bubble of the Ryder Cup team yet so it's back to reality a bit here. It's nice to hit balls again and we spoke last night with the guys I work with about resetting.
"It's nice to keep reliving that winning moment of such a special week in my career and it is the best moment I've experienced in my career as a golfer."
The now infamous video of Molinari and Fleetwood together in bed has been shared widely on social media and Fleetwood was playing it straight when asked about the origins of the fun video yesterday.
He said: "It was real, we just got caught, and I don't know how it happened.
"We're two such outgoing characters so we were going to hit it off. We've seen some songs being sung about us. For us, we've been close for a long time and we wanted to play together in the Ryder Cup and we got the chance and played very well. It was nice to make that contribution to the team but we didn't lead by any means.
"It's nice to experience it for the first time and it's true what the experienced guys say, it's the best experience you have as a golfer.
"But there is still plenty of golf to be played and there are still six or seven tournaments on the schedule. There are certain goals and I'd love to win again this year before December when I switch off for a while."
Fleetwood added: "I could have been at home resting or here which is the perfect place to be. St Andrews is my favourite course and the Pro-Am format will be light-hearted but still in tournament mode.
"I could sleep for a week I'm sure although I feel alright at the moment."