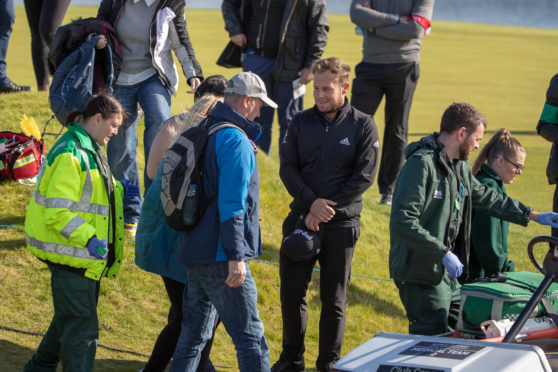 Tyrrell Hatton was devastated yesterday after striking a fan on the head during the Dunhill Links Championship.
A female spectator from Edinburgh was watching the action on the 15th hole at Kingsbarns when she was struck on the forehead by a stray ball from European Ryder Cup star Hatton's five-iron which went left into the crowd.
The woman, who was left with a nasty gash on her forehead, was treated at the scene and while not serious she was taken to hospital as a precaution.
Family of the woman, who did not wish to be named, told Hatton not to worry but the defending champion, who carded a two-under-par 70, said he felt awful following the incident.
Hatton said: "It's probably one of the worst feelings I've had on a golf course.
"It's the first time I've ever hit someone. So I was pretty devastated, to be honest. I was getting updates when I was out on the golf course, because I wanted to know how she was doing.
"When I finished my first nine holes, I was told she was OK, that there were no concerns.
"She was going to hospital just to have a couple of stitches but there were no concerns from a medical point of view which is obviously good news but, at the same time, I'm just devastated that I've hit her.
"I gave her a hug. I didn't know what to do. My head was all over the place.I was absolutely devastated, I still am. It's not a sight you ever want to see.
"You want spectators to come out and have a great day. Unfortunately, on this occasion, she didn't get to enjoy her day. I'm just very thankful that she's OK."
The incident came less than a week after a fan was left blinded in one eye after being struck by a ball from American player Brooks Koepka at the Ryder Cup and Hatton was relieved the fan was not seriously hurt.
He said: "It was obviously a horrific moment. It reminds you that golf isn't that important. All we can do is shout fore, as players. We can't do anything other than that."