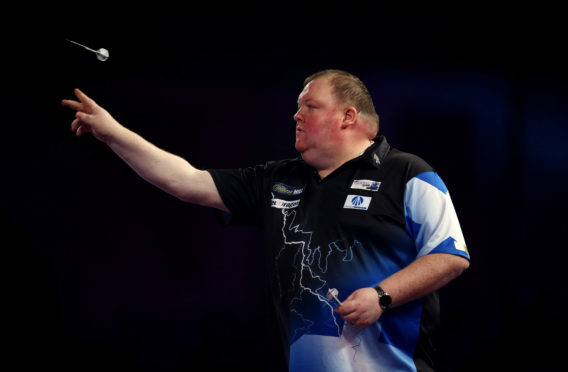 All John Henderson wants for Christmas is to still be in with a shot at glory in the PDC World championship.
The 45-year-old from Huntly is gearing up for the biggest event of the year, which gets under way at London's Alexandra Palace tonight.
Henderson enjoyed his best run yet in the World championship 12 months ago when he reached the third round of the competition, following up a comfortable 3-0 win over Marko Kantele in the opening round with a surprise victory over fourth seed Daryl Gurney.
Rob Cross, the eventual winner of the 2018 World championship, proved too strong for Henderson as the Highlander bowed out with a 4-1 defeat. Henderson is relishing his return to the Ally Pally and sees no reason why he can't better last year's performance.
He said: "I am up to 23 in the world so it has been one of my best years so far and I would love for it to end on a high. In 2017 I reached the semi-finals of the World Grand Prix and the third round of the World championship.
"It was always going to be hard to match that but I have managed to get my ranking up and I'm looking forward to trying to go that bit further in the Worlds.
"Before last year, my World Championship record was not the best. I had only won once on that stage, which was disappointing as I love the venue and the competition.
"I had a good run last year and I feel like I know what it is all about now. Hopefully I can build on last year and take it a couple of steps further this time."
Henderson does not take to the oche until next Friday when he faces the winner of the first-round tie between England's Aden Kirk and Gabriel Clemens.
If he gets through that encounter unscathed, the Huntly arrowsmith is likely to face a third-round showdown with Michael Smith, who is rated as fourth favourite to win the competition behind Gary Anderson, Michael Van Gerwen and Peter Wright.
Henderson said: "I was still in the competition after Christmas last year and I want to do that again.
"I only have one game before Christmas this year as I'm a seed and I don't come in until the second round.
"There are no easy games in the PDC and Michael Smith is playing really well at the moment. But I just need to focus on my first match. I am playing well. It will just come down to if I hit my doubles on the night and then I can beat any of them.
"It is going to be hard but I am more than capable.You never know what can happen, I could go on and win it."
Anderson and Van Gerwen will start as the men to beat but Henderson reckons there are plenty of players capable of going all the way and claiming the Sid Waddell trophy and the £500,000 first prize.
He said: "It is wide open this year. Michael and Gary are always going to start as the favourites in every tournament but I feel the fear factor with them is disappearing a little bit.
"They are clearly going to be two of the big favourites but I think we all feel we are capable of beating them if we play our best darts.
"There are always one or two players who pop up, such as Jamie Lewis last year and the winner Rob Cross, who people maybe weren't expecting.
"Hopefully it is my turn this year. I have been doing a lot of practice.
"I normally do about three or four hours a day but, with the Worlds coming up, you do a bit extra and an extra hour a day doesn't do you any harm. I am really putting in the effort as everyone knows practice makes perfect.
"I am feeling confident and I love playing on that stage. I am looking forward to it and hopefully I can kick on."