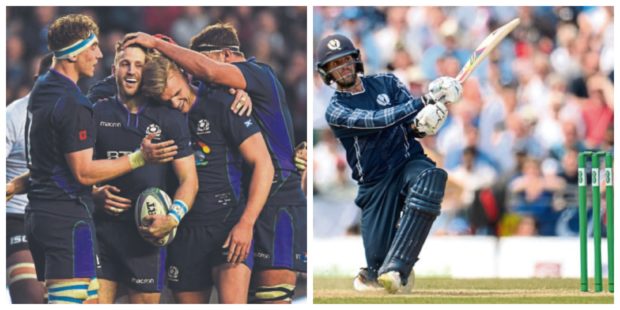 Any year which ends in an odd number automatically means there is no World Cup or European Championships in football or Olympics or Commonwealth Games in the wider sporting spectrum.
But 2019 brings us World Cups in two different pursuits – cricket and rugby – and these competitions promise to provide a plethora of highlights and headlines in the new year.
It's a pity the globe's premier event in cricket has restricted itself to just 10 participants, dashing the aspirations of talented Associate countries such as Scotland, Ireland and the Netherlands. And it's even more exasperating the ICC seems determined to buck the trend of every other sport by reducing rather than expanding its horizons with the same limited format in 2023.
But the tournament should still provide an abundance of thrills, especially given that England will go into it as clear favourites, with James Anderson even suggesting last week that his compatriots would have to "blow it", not to lift the trophy for the first time in its 44-year history.
Such confidence doesn't appear misplaced. The English have strength in depth, a wide array of talent at their disposal, from Jos Buttler and Jonny Bairstow to Ben Stokes, Moeen Ali, Eoin Morgan and Joe Root, and they will be playing in front of their own supporters in familiar conditions.
It helps that most of their opponents are struggling with a variety of problems. Australia have slumped in recent times to the stage where you wouldn't be surprised if they lost to Bangladesh and even the return of Steven Smith and David Warner won't paper over the cracks.
South Africa have lost some of their lustre, the West Indies barely scraped past Scotland to reach the World Cup, and one simply can't envisage Sri Lanka, New Zealand or Afghanistan rising above also-ran status. That leaves India and Pakistan, both of whom have genuine match-winners in their ranks, but there's no disguising the fact that the Barmy Army's assertion "It's Coming Home" has plenty of credibility.
The Rugby World Cup has a more tantalising aspect. Defending champions New Zealand will be desperate to maintain their stranglehold of the last decade, but their recent loss to Ireland emphasised that the Northern Hemisphere nations have raised their game and Joe Schmidt's transcendent team will fear nobody when they travel to Japan.
The Welsh may not be a treat for those who enjoy champagne rugby, but they are streetwise, know how to win ugly, and amassed four victories during their autumn Test schedule.
Scotland managed just two, but demonstrated sufficient prowess throughout 2018 to be confident of meeting and beating almost anybody. The Six Nations is shaping up to be pivotal for Gregor Townsend's men, with visits to Twickenham and the Stade de France.
They haven't triumphed in London since 1983 – before any of the current side was even born – but they have to break that cycle and prove they can win these type of high-octane contests away from Murrayfield. The Irish have made the step up. So have the Welsh. And it shouldn't be beyond the capability of the Scots with performers of the calibre of Stuart Hogg, Finn Russell, Huw Jones and their mobile pack.
It should be an absorbing spectacle and I honestly believe the SRU's finest can progress to the semi-finals for the first time since 1991. After that, anything is possible!