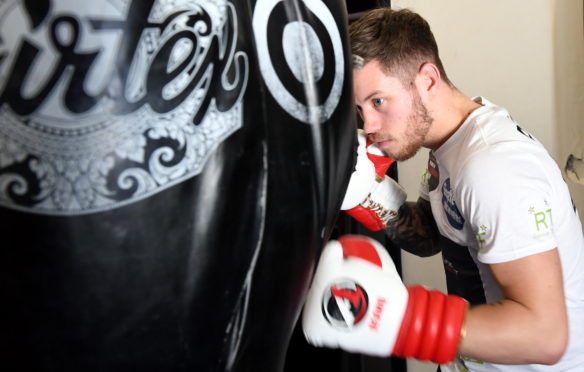 Aberdeen boxing prospect Dean Sutherland has his sights set on going full-time by the summer.
Sutherland, who faces Jordan Grannum in his fifth professional fight in Glasgow on Saturday, balances his sporting career with an apprenticeship at Bancon Construction.
However, the quick-fire progress he made in 2018 – he only turned professional in June – has already led to him putting plans in place for a full-time tilt between the ropes and he hopes such preparation can get him ready for a title shot before the end of the year.
Sutherland said: "It's a big target of mine. June 1 is the date I've set myself, once I get my apprenticeship out of the way. I need to get backing sorted and preparation done so it's not a shock to me. I want it to be a breeze.
"My ranking looks very good but the top 10 welterweights and super-welterweights have a lot more experience at a higher level. There's no point jumping into anything too early, as I'm still only 20."
Those four wins, the last one a knock-out of Vinny Atkins on November 30, put him 21st in the list of UK super-welterweights and the youngest in the top 25.
Sutherland, signed to Glasgow-based promotion Kynoch Boxing, hopes promoter Sam Kynoch keeps him busy in 2019. He fights Grannum at the Crowne Plaza Hotel this weekend and returns to action on March 2 at Trump Turnberry in Ayrshire.
He said: "I've said to him if he sees any pull-outs or shows he thinks will be a good opportunity, to put my name down. Bigger opportunities to chase up the rankings will not come if I'm not active, so I'm going to be a handful for Sam."
Grannum has a 4-43-1 record and fought 30 times last year, picking up two wins. Sutherland is happy to gain experience ahead of chasing a knockout. He said: "He's fought on a few big shows and has been round the block. Getting more rounds in will let me test what I've been working on and if the KO is not coming, I don't need to get frustrated. I'd rather think about my shots than try to force it."
Sutherland has been sponsored by Arnold Clark in 2019, who see a big year for him in the sport.