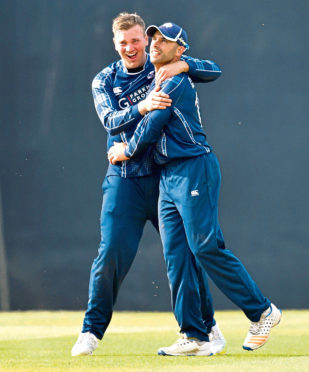 Cricket often serves up tales of the unexpected.
But it's not often that a team in the List A version of the game is bowled out for just 24.
Yet that is exactly what happened to Oman against Scotland today.
Their batting line-up had no answer to the wiles and menace of Ruaidhri Smith and Adrian Neill, who moth recorded analyses of four for seven as Kyle Coetzer's side swept to a ten-wicket victory in rapid time.
Smith and Neill are two of the many reasons why the Scots should be confident about progressing in the future.
They are young, they are hungry and ambitious and they believe in Cricket Scotland's ambitions of pursuing ICC Full Member status.
New coach Shane Burger will join the set-up next month and he will quickly discover the extent of the commitment and talent which exists within the current players.
There was a time not so long ago when Scotland might have been apprehensive about tackling the likes of Oman, who themselves are a rising force, and have beaten Ireland in T20.
But Coetzer's men are on an upward curve and it promises to be a mesmerising journey.
They triumphed in the quadrangular tournament last week, demolishing Ireland and Oman in the process and have the relentless nature of men on a quest.
Neill's ascent into the team is a positive step, both for the former Aberdeenshire pace bowler, who once took all 10 wickets in a match against Watsonians, but also for the Scots.
He has speed, but he can also extract bounce from the flattest of pitches, which helps make him such a dangerous adversary.
The Scots still have to play Oman twice in the series, but they have so much momentum it's difficult to see them coming unstuck.
I'm speaking as somebody who was part of a side which once dismissed opponents for 24 in the 1980s.
It was a creditable performance, and we made it onto the front page of the West Lothian Courier the following week….but only after we had been skittled for 15 in our response.
Thankfully, Coetzer and his squad are made of stronger stuff!