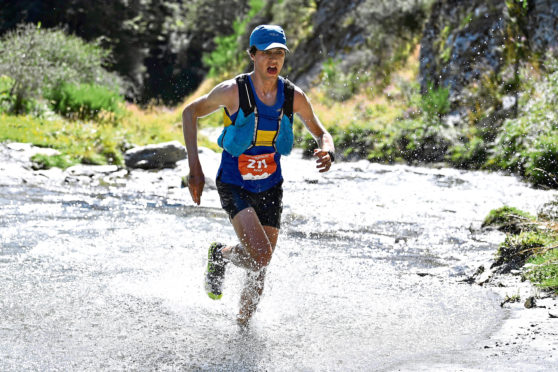 East Sutherland AC's Ross Gollan hopes his success in one of New Zealand's most spectacular races will set him up for success on this summer's European circuit.
The Scotland hill running international, from Edderton near Tain, took top spot in the Shotover Moonlight Mountain Marathon, completing the 43km course, which included 2,600m of climbing, in 4hr 33min. He was a little over eight minutes outside the record held by New Zealander Ryan Carr.
The course follows sheep tracks, historic gold mining routes and high country mustering paths.
Competitors climb and descend through tussocky ground, mountain ridges, beech forests and creeks, a scree slope descent, a ladder climb beside a waterfall and even a tunnel along a valley floor.
Gollan, who is enjoying a six month spell living, training and racing in New Zealand, was delighted to win such a prestigious event.
He said: "The race started at 5am in a cold river canyon and the course initially winds its way through the Ben Lomond high country sheep station, following a series of sheep trods and water channels up and over canyons and ridgelines.
"We trundled upwards out of the canyon and on to an old water channel, a relic of the area's rich gold mining history and I settled into what I presumed to be a sustainable pace,
"I found myself gradually moving away from the field on the flatter sections and descents.
"The halfway aid station gave me an opportunity to refuel and refocus on the second half of the race, mainly preparing myself for the second major climb.
"The final climb is affectionately known as the 'grim reaper'. It's not particularly long, but coming in the final 10km makes it hard, both mentally and physically.
"The dreaded river crossings are the final obstacle, good fun on a Sunday social run but not on tired, cramping legs.
"After safely negotiating these it was just a matter of breaking the tape and enjoying the result."
Gollan is now making his racing plans for the summer season when he returns home.
He said: "I now have the confidence to enter the Migu Skyrunning world series. I'll be travelling across Europe racing over a mixture of distances and terrain.
"When I first get back from New Zealand I'll be heading to the Italian Alps for the Livigno Sky Marathon in June.
"I'll also race several Scottish hill racing fixtures as well as some European mountain running races."