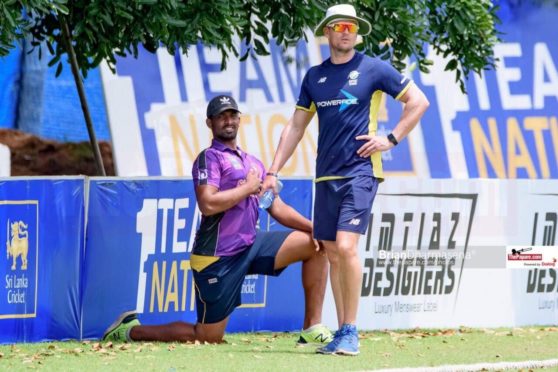 Scotland's new cricket coach has expressed his excitement at the ambition and positive attitude which exists within his squad.
South African, Shane Burger, has only been in Edinburgh for a few weeks, but he has already seen sufficient hunger within his players to realise they are determined to pursue their dream of ICC Full Member status in the months ahead.
As the new season prepares to commence, Burger and his confreres will soon be in the thick of the action, and he is relishing maintaining the Scots' recent momentum, which was capped by them beating England at The Grange last June.
The coach told the Press and Journal: "I'm not surprised to see the players and staff are ambitious after the past few years, now the key is to find a balance that can make us more consistent and allow us to reach our potential.
"The attitude is one of hard work and working cleverly towards achieving our goals, we will keep assessing this and make sure we can create an open and honest culture that provides a platform for consistent high performance."
Burger is one of life's glass-half-full personalities and he wants to instil a fearless philosophy in his troops; an approach shared by team captain, Kyle Coetzer with whim the new mentor has established a close rapport.
He said: "I am always excited by challenges and opportunities to learn and grow. I feel we have a wonderful opportunity to play far more cricket than we have done in the past and in doing so the players and staff can give ourselves the best chance towards achieving our short and long term goals.
"The season is an important one, because we have four ODIs against top 10 ranked opposition in May and then the World T20 qualifiers in October in Dubai.
"Every game is important and I know the players have set the bar pretty high."
Burger's positivity is infectious and he genuinely believes the Scots have the potential to spark more upsets against the sport's leading countries.
But he is also determined to spread the gospel at the grassroots and is committed to ensuring more Scottish youngsters pick up a bat and ball.
He said: "Cricket provides the opportunity to achieve dreams as well as a career in the game, not only as a player but also an umpire, scorer, groundsman or administrator.
"Women's cricket has grown massively over the past few years and it is a sport that can be enjoyed by all at any level.
"Cricket provides a wonderful platform to meet new people, make good friends and also network with them.
"It not only teaches you about team work and leadership but also teaches you many life lessons along the way. You would be silly not to at least give it a go…"
He's not taking no for an answer!