 It's always disappointing for any cricketer when the rain arrives after a long period of sunshine.
But it has been even more frustrating for Aberdeenshire's new professional, Solo Nqweni, who has been forced to wait for the chance to shine after his arrival at Mannofield.
The 25-year-old South African all-rounder has impressed in his country's domestic game, but he cut a forlorn figure as the heavens opened after just one over of Shire's opening fixture against Stewart's Melville. And, if anything, conditions were even worse in the Granite City at training on Tuesday night.
However, Solo is a motivated, extremely committed character and, while he joked about the weather – "I was told to pack an extra jumper and I only brought a vest" – he is determined to demonstrate his ability when the north east men tackle Grange at home this weekend.
He said: "I've only been here for just over a week, but I've really enjoyed working with the guys and now I want to deliver the goods on the pitch.
"I know Aberdeenshire have put their faith in me and I want to pay that back, both on and off the pitch, in the months ahead. Of course it was disappointing when our first match was cancelled and especially given that we actually got started.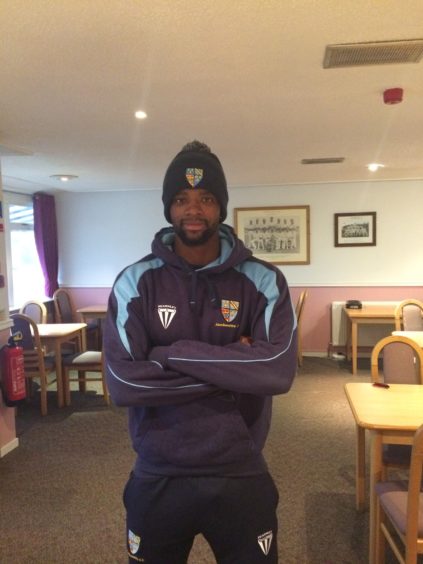 "But these things happen wherever you play cricket. You can't control the weather. The thing is, since I met up with [club captain] Kenny Reid and the other guys, I can see there is a lot of ambition here at Mannofield. I want to be part of that this summer."
Despite his name, Solo doesn't want to do it alone. He is champing at the bit to make an impact against Grange, who lost their opening tussle, but he realises he can't attempt to be a one-man team.
He said: "I've been told about what Grange have achieved in Scotland in the last few years, and full credit to them, but we can't afford to worry about their reputation.
"I've already spoken to the other lads in our squad and told them it is up to us to win this trophy and not worry about anybody else in the competition.
"We realise it is a tough league, but you have to trust your own abilities and play hard. There is no other way to succeed.
"It doesn't matter what has happened in previous years: all that matters is this summer. We can't afford to worry about Grange or anybody else in the competition or we might end up losing games before they've even started."
With which, the new recruit ventured to his temporary home in Aberdeen, dressed in a muffler, tracksuit and other winter warmers.
Not gloves, though. Shire tackle Grange on May 4 – Star Wars day – but Solo wants to make sure the force is with him and his colleagues.