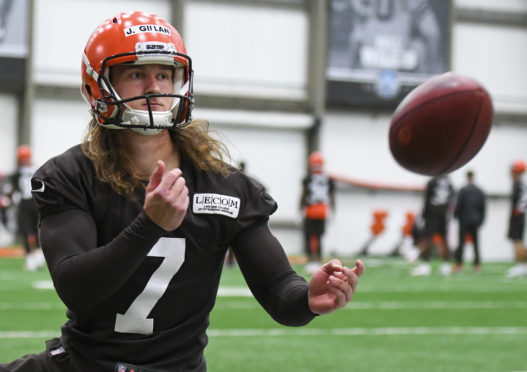 Jamie Gillan has his sights on earning a roster spot with the Cleveland Browns after signing with the NFL franchise.
Gillan, a former Highland rugby player turned punter, was signed by the Browns after last week's NFL draft and faces stiff competition from 10-year veteran Britton Colquitt to win the starting job.
NFL franchises traditionally only carry one kicker and one punter on a 53-man roster, which is whittled down across off-season workouts and pre-season training as numerous first-year players try to earn their break.
Colquitt won the Super Bowl with the 2015 Denver Broncos before joining Cleveland and 21-year-old Gillan accepts he has a challenge on his hands to gain his spot.
He said: "I want to keep training hard and get a roster spot. They want me to put well and like I know I can and it is a really big challenge. But it's a good one. Britton is an incredible punter and I'm looking forward to working with him. I really like the special teams coach, Mike Priefer, too and I really want to play for him.
"I've had more messages than I could believe. Everyone has been hitting me up and they're really happy for me. But I'm not really at the stage yet where I'm taking stock – it's grind, grind, grind and win that spot."
Gillan, who had a private workout before the draft with the Browns and the San Francisco 49ers, spent draft week with his friends and family in Arkansas, where he finished a four-year stint as their kicker and punter last season. He lived in Inverness between the ages of 10 and 14, before moving to Merchiston Castle in Edinburgh to play rugby.
New #Browns rookie punter, Jamie Gillan, aka "The Scottish Hammer." pic.twitter.com/jiJOxD8rQX

— Tom Withers (@twithersAP) May 3, 2019
Shortly before his 17th birthday, he moved to Maryland when his father Colin, who is in the Royal Air Force, was re-stationed to Patuxent River. Gillan took up American Football at Leonardtown High School before answering a Facebook post as the University of Arkansas at Pine Bluff looked for kicker.
He had a one week camp at the Browns facility with the other rookies before returning back to Arkansas. A six-week camp with the remainder of the roster awaits, with pre-season games starting in August.
The Browns have not made the play-offs since 2002 but the AFC North outfit have retooled impressively for the 2019 season. Quarterback Baker Mayfield, last year's first overall pick in the draft, is in his second season and Odell Beckham Jr has joined in a high-profile trade with the New York Giants. His addition beefs up an offense that already includes running back Nick Chubb, wide receiver Jarvis Landry and tight end David Njoku.
Freddie Kitchens has been promoted to head coach after the firing of Hue Jackson mid-way through last season and Gillan credits Browns general manager John Dorsey with assembling a strong unit for 2019.
He added: "Mr Dorsey has done a really good job choosing coaches and this team is going to be awesome this year.
"I knew by about round five of the draft that they wanted to bring me in. A few other teams approached me afterwards but my heart was set on the Browns."