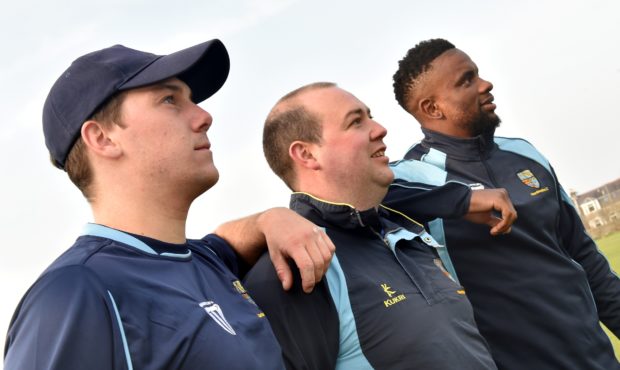 Aberdeenshire's overseas players have called for the creation of new competitions to encourage youngsters to pursue the game after they have left school.
Callum Mackaness, from New Zealand, and Solo Nqweni, from South Africa, feel it is crucial the Scots moved beyond the current domestic structure.
They believe it is essential to create pathways whereby youngsters are offered new opportunities to continue their enthusiasm for the sport after leaving school.
The pair also backed the idea of Sundays becoming Twenty20 occasions, with the focus on families and players being given the chance to take part in community-based cricket.
This follows an increasing number of cases of clubs being unable to fulfil their Sunday fixtures due to lack of playing numbers.
Aberdeenshire's Scottish Cup match against Dunnikier last Sunday saw the Fifers concede the tie because they couldn't raise a team.
Mackaness, who is in his second season at Mannofield, said: "It's great to see so many young kids involved in Red Ball and All Stars Cricket, but there is almost nothing for them once they leave school.
"I know the Cricket Scotland authorities are working hard to sort this out, but it is a big problem at the moment.
"Kids love playing cricket at the age of nine, 10 and 11, but then they move on to secondary school and there is very little for them. In too many cases, they find other sports and cricket loses out."
Nqweni has also been struck by the lack of opportunities for players aged between 18 and 25.
He said: "I have only been here a few weeks, but I actually think the standard at club level in Scotland is higher than it is in South Africa.
"However, we have a big focus on youth and university cricket back home and that just doesn't seem to exist in Scotland.
"We need to find a pathway or a new structure – and maybe national tournaments – where Scotland is getting the benefit of these competitions to bring through more players in the future.
"We also have to realise that Twenty20 is becoming a huge feature of the game across the world and it has the potential to attract people who have not been interested in the sport before.
"If players are involved in league action on Saturdays – involving 90 or 100 overs – they really have no time to spend with their loved ones and it is asking a lot for them to give up every weekend in the summer.
"A new Sunday Twenty20 structure would help change that, bring more people through the doors and generate extra income for clubs."
Malcolm Cannon, the chief executive of Cricket Scotland, said he understood why the Shire duo had spoken out.
He added: "I am glad that Callum recognises we are putting a great deal of effort into developing the sport throughout Scotland and in particular in the north east.
"The newly-formed North East Scotland Cricket SCIO (formerly the Aberdeen grades) will give the regional association much more power in developing the sport.
"Our relationship with Aberdeen University has developed significantly through providing cricket coaching and through them leveraging the recent Scotland vs Sri Lanka series.
"There has also been a vast improvement in the understanding and communications about the structure of domestic cricket and in particular of player pathways.
"Our regional representative teams now operate at all age groups for both boys and girls and high quality coaching is available for those youngsters wishing to continue playing after their introductory soft-ball formats.
"It is hoped the senior regional competition, the Tilney Series, will be granted List A status by the ICC which lifts the quality and recognition even further.
"Sundays have always offered the opportunity for non-league competition and we currently utilise them for the Citylets Scottish Cup.
"However, we are constantly reviewing the various competitions and T20 is appearing more and more in our schedule."