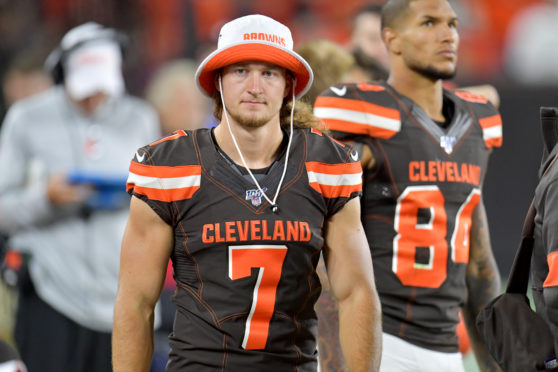 Colin Gillan does not usually get nervous. But last week he made an exception.
He was playing dog-walker to his son Jamie's German shepherd, Bear – "He gets two responses walking round town: people jump out of the way or come running towards him" – while the 22-year-old Scot chased a roster spot with the NFL's Cleveland Browns.
The champagne bottle was in the fridge, sat waiting news on whether it would be opened amid scenes of celebration or sorrow. It proved to be the former, with Gillan junior's pre-season showing, which included a 74-yard punt against the Indianapolis Colts and three special teams tackles, earning him the nod over a former Super Bowl winner in Britton Colquitt.
His stock and profile has only risen since being picked up by the Browns. He is not just the Scottish punter with the monster leg, but the Scottish punter who can hustle downfield and lay a hit on the opposition.
That owes much to his rugby background. With Colin's career in the military, the family relocated frequently. From Kinloss to London, to Inverness, Edinburgh and then Maryland. But whenever their home changed, rugby remained a constant.
Gillan's four years playing for the youth teams of Highland RFC in Inverness stood him in great stead. He has cited his coach, Donnie Flockhart, as the best he has had. His father helped out alongside Flockhart, in the shadow of the old Canal Park.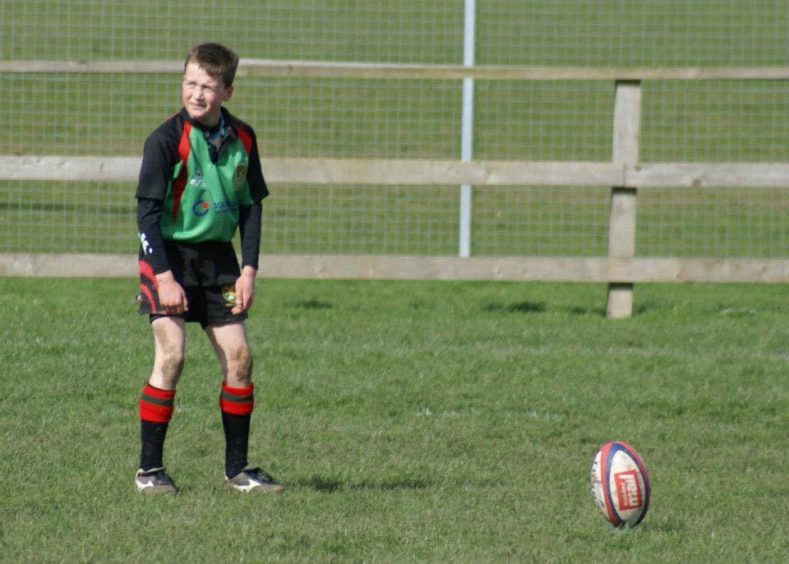 "It did a lot for Jamie. Donnie was a former Scotland A openside flanker and he instilled an incredible team ethic into the kids. They went on the field ready to tear flesh from bone. He got them fired up and no-one could hold them back.
"Jamie loved putting the shirt on and he always reflects on that. If you are a reasonable level of sportsperson, coaches play a huge part in your development. That period was a good one for Jamie."
Flockhart, whose son Bruce was in the same youth side and now plays rugby for Glasgow Hawks, remembers a humble kid dedicated to his craft.
"The families used to go round each others' houses," he said. "Jamie would be outside and have a rugby ball tied to his wrist, throwing it backwards and forth. He would roll it off the roof and catch it.
"He just had something in him that he would take the game by the scruff of the neck. He wanted to win. He was a boy that had sparks coming off him. I'm over the moon for him and can't believe he mentioned that I'd coached him."
Colin himself coaches at Pax River Rugby in Maryland, close to where he works at the Naval Air Station as a deputy operational test director.
So what was @ScottishHammer7 up to when he got the call on Saturday? pic.twitter.com/NURUXFh9Md

— Cleveland Browns (@Browns) September 3, 2019
Family matters took precedence both sides of the pond last week; while Jamie was discovering his NFL fate with the Browns, his sister Mhairi was preparing to start university in Aberdeen. The family still have a home in the Culloden area of Inverness, where they lived for four years. Scotland's pull on the family will remain.
Gillan's rise and his background has been well-documented. His youth spent playing rugby, a chance audition for a spot on his high school team at Leonardtown, and then a standout special teams career at college with the University of Arkansas at Pine Bluff.
He was picked up in free agency, after April's draft, by the Browns. An off-season dominated by an ambitious rebuild and rebrand, led by general manager John Dorsey and head coach Freddie Kitchens, has seen the Browns become one of the most talked-about franchises in the league.
Gillan's "Scottish Hammer" moniker has taken off with it; you can get t-shirts with his nickname branded on it. The man behind the coining was his Leonardtown High coach Brian Woodburn.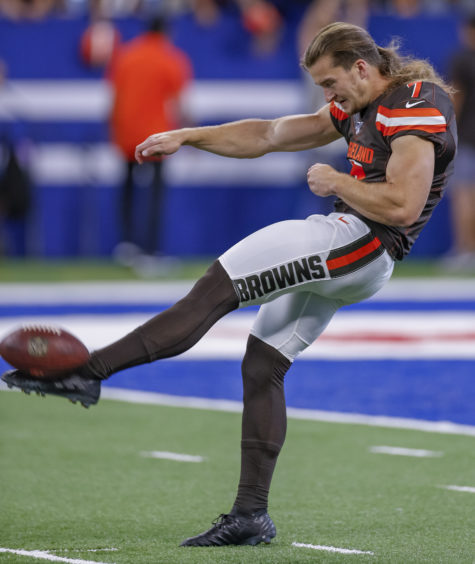 "I was putting together his highlight tape one night. I said to him the next day 'that's your nickname now – when you make it, that name is going to be electric'. The 'Scottish Hammer' has absolutely taken off. The kid hasn't played a snap in the NFL yet but he's already got t-shirts. The whole city absolutely loves him and rightly so. He's hard-working and extremely humble, which is testament to him and his parents. They are a fantastic family.
"In his first practice, I asked him to kick off and he crushed it, eight yards deep into the endzone. His very first punt was a 65-yarder, done rugby-style. My kicker at the time was stood next to me and said 'what am I supposed to do?'
"I'm super excited for everything he gets to do. He always includes me in everything and it's incredibly humbling having someone talk you up like that."
Woodburn is flying out to Cleveland for the opening day of the season and taking a special gift.
"When he was a senior in high school, his dad bought me a bottle of single malt scotch, Laphroaig, as a thank you. I put a note on it saying 'open when Gillan makes the NFL' and I haven't touched it. After the game on Sunday, we can crack it open. We can sit back with two fingers of scotch, take a breath and soak it all in."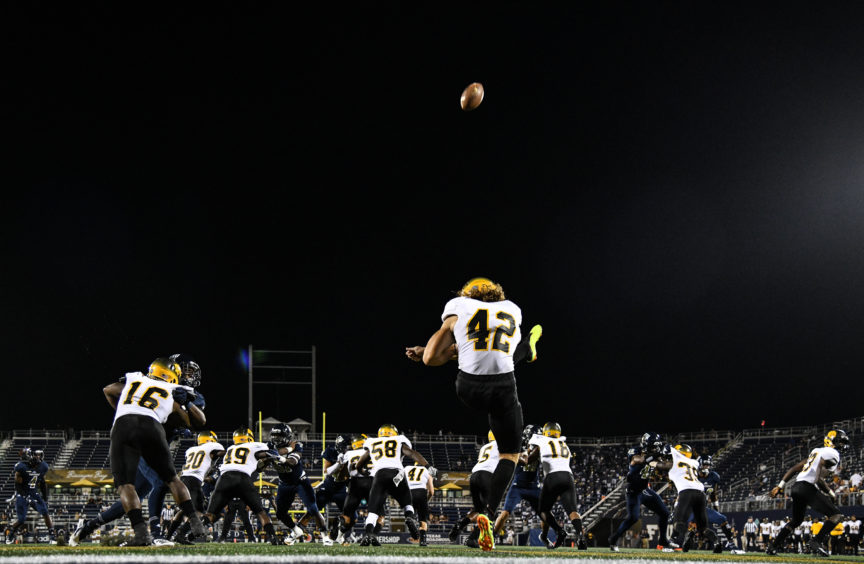 News of his roster spot was delivered while Gillan and his father were at The Flying Monkey Pub in Cleveland's Tremont neighbourhood. Gillan shared the story with reporters during a Monday press conference, adding "it's going to be one of those little places in my heart". Be part of a Super Bowl winning team in Cleveland and he will never have to buy a drink in the city again.
The Browns fanbase has already embraced the kid who Woodburn understatedly describes as "not your typical punter". A franchise without optimism for so long has a new cult hero.
His debut lies in wait in this Sunday's season opener against the Tennessee Titans, where Gillan's remarkable story will add a new chapter.
"I always said to him to keep his eye on the prize and there'd potentially be an NFL slot for him," his father said. "I've always known him to rise to a challenge, from playing rugby over the years. He steps up."