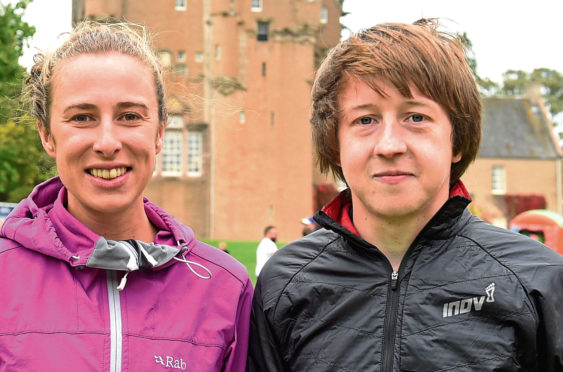 Jason Kelly was crowned King of Crathes Castle after an emphatic victory in the half marathon that headlined Saturday's festival of running at the venue.
Close to 700 competitors of all ages flocked to Deeside for the programme of races, which also featured a 1.5km for youngsters and a 5km for teenagers and adults.
Kelly, who had been runner-up behind course record holder Kyle Greig in 2018, was determined that this year he would be occupying top spot on the rostrum.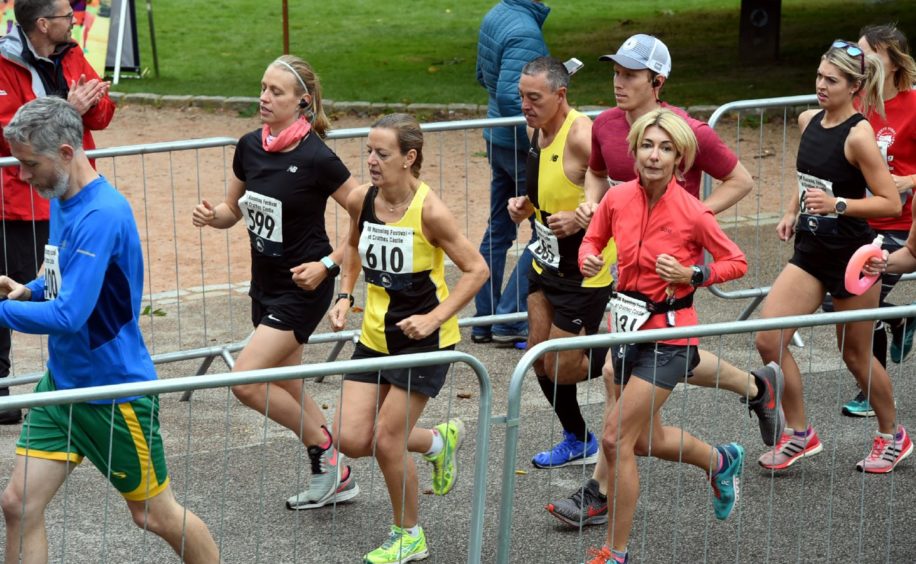 After shrugging off a determined challenge from veteran JS Kintore club member Tom Roche over the opening five miles, the Metro Aberdeen man pushed on and secured a well deserved win, recording 1hr 13min 13secs to finish 73 seconds ahead of his rival.
Kelly said: "The conditions were very tough with a strong headwind pretty much all the way through the second half of the race.
"Tom and myself were together for the first five miles and he was pushing the pace a bit faster than I wanted.
"But I went with it as I knew we would lose a bit of time when we turned into the wind.
"I managed to get a bit of a gap when we hit the first trail section of the course. I think he slowed a little while I was able to keep going and my lead gradually extended all the way to the finish."
Kelly was happy with his winning time and feels it sets him up nicely for an even faster performance later in the month.
He said: "I am pleased to be much quicker than last year despite significantly worse conditions, so that bodes well for my next race.
"I'm doing the Scottish championship half marathon in Glasgow where I'll be hoping to get close to, or even improve of my best time of 1:10:53 set in London earlier in the year.
"I'd certainly hope to be under 1:11 I went through seven miles today at that pace, albeit with a tailwind, but I felt really good so it's pleasing to know that, with a couple of weeks to go until Glasgow, I can run that pace comfortably."
Kelly also took satisfaction from seeing his dad, Neil, finish 10th in a personal best 1:23:53 that gave him second position in the over-50 age group behind Metro's Richard Horne, who won with 1:21:19.
Kelly said: "He'll be pleased with that as he's doing the Loch Rannoch marathon next month so he'll get a boost from today's performance."
Roche, who also plans to compete in Glasgow, settled for second position in 1:14:26, an improvement of more than two minutes on his last appearance in the race, in 2017, when he finished third.
Tom Brian (Metro Aberdeen), who is preparing for the Amsterdam marathon in October, was third in 1:15:47.
Prise win sets her up for race at Loch Ness
Kerry Prise hopes her fine performance in the PIM Crathes Castle half marathon will spur her on to more success when she races over twice the distance next month.
The 27-year-old Metro Aberdeen runner sped to an impressive victory in the women's division of the Crathes run, clocking 1hr 23min 57secs, a time bettered by only 10 men in the field of 390 competitors.
It's also the third quickest by a woman in the nine-year history of the event and she was just 10 seconds outside her best time this year, set when taking top spot at Dyce in August.
Prise, who won the 26 mile Lairig Ghru mountain race in June, is now looking forward to tackling next month's Loch Ness marathon.
She said: "I haven't really trained for a road marathon before so I just want to go out and enjoy it.
"It's hilly so that should suit me, but I've no idea how I might get on.
"I was pleased with my run today and I loved the course. It was quite tough having a head wind in the second half, but we had a tail wind before that, so we knew what was coming.
"It's the first time I've run at Crathes since I was a youngster competing in the cross country races they held here about 12 years ago.
"But I might come back next weekend to do the parkrun 5km."
Prise led Metro club members to a clean sweep of the medal positions.
Runner-up Debbie Greig, the 2017 winner and course record holder, was competing just 10 weeks after giving birth to her first child and she took second position in 1:28:18. Hazel Wyness was third in 1:30:14.
5km miles less gruelling for victorious ultra-running pair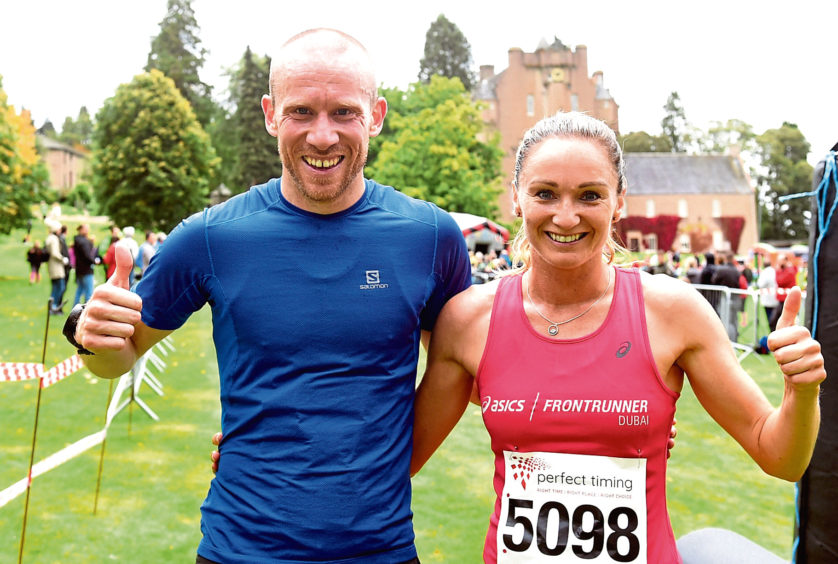 Great Britain ultra-distance trail running team members Kyle Greig and Meryl Cooper both stepped down from their usual racing distances to take top prizes in the PIM 5km at the Crathes Castle festival of running.
The north-east athletes had competed in the gruelling Ultra Trail Mont Blanc trail races at Chamonix a fortnight earlier.
Metro Aberdeen's Greig was 116th in the 171km men's race, completing a course that included 10,000m of climbing and descent in just over 30 hours.
Oldmeldrum's Cooper was 13th in the women's 101km contest, clocking 14:35:52 for a route featuring 6,100m of altitude change.
Both runners were understandably happy to be enjoying the relatively short and more comfortably undulating race around the grounds of the National Trust for Scotland property.
Greig did enough to win the men's competition in 18min 14secs finishing 63 seconds ahead of Arbroath teenager Brodie Cameron.
Cooper took the women's title when finishing third overall in 20:29 with Sarah Tillman her closest challenger in 24:10.
While Kyle was running, wife Debbie looked after their 10 week old son Logan and the roles were reversed when Debbie went on to finish second in the women's half marathon.
Greig said: "I won't lie, it was hard work. I have only done a single two mile run since Mont Blanc. I haven't even done any cross training so I really felt it. All credit to the young guy who was second.
"He ran well and his time over that course is good."
Cooper said: "I only decided to do this race at the last minute after reading about it in the paper. I enjoyed it and I feel my recovery from the ultra has gone well."