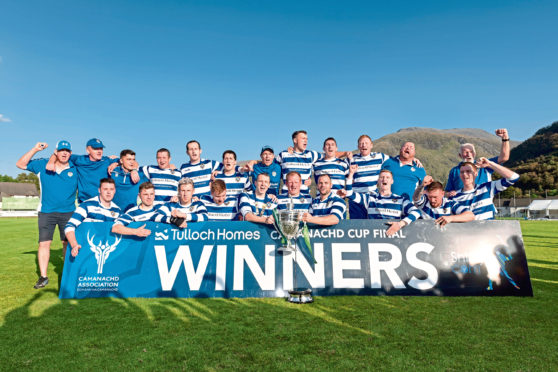 Glen Mackintosh, who scored two goals after being out injured for nine weeks to help Newtonmore win the Tulloch Homes Camanachd Cup, is determined to try to make next year's final – at the age of 41.
"I'm going to play again next season, without a doubt," he said after the 5-1 win over Oban Camanachd at Fort William which made it four successive triumphs for The Eilean men for the first time since 1910.
"My knee is sore and I'll need to build it up over the next few months but next year's final is at Kingussie and winning the cup there would be fantastic."
Mackintosh added: "I couldn't have dreamed a few weeks ago that I'd make this final but we showed that once again our team fitness is underestimated."
Mackintosh and Jamie Robinson are the duo who now have a sixth winner's medal.
Skipper Evan Menzies, who scored for the third successive Camanachd final, said: "My father Willie was the winning captain in 1986, even though he was suspended and missed the final. It's great to follow in his footsteps."
The Newtonmore tradition in this cup is underlined by Michael Russell and Fraser Mackintosh also being the sons of winning captains.
Meanwhile, Craig Ritchie collected his fourth winner's medal. His father Michael has two, while grandfather "Tarzan" Ritchie has 13 winner's gongs.
Manager Paul John Mackintosh, who has been juggling a spate of injuries this year, chalked up his fifth Camanachd triumph.
He said: "We played really well on the day and, in the circumstances, it's a major achievement.
"Glen and Evan dovetailed superbly while I was pleased Rory Kennedy won the Albert Smith Memorial Medal as, in my opinion, he's the best player in the game."
Oban Camanachd manager Stephen Sloss said: "We just didn't perform and that's a huge disappointment. Too many experienced players didn't step up on the day."
However, the young Mossfield side has stepped up a gear this season and will surely not wait 23 years for their next crack at the trophy. Their forwards were thwarted by the twin towers of Kennedy and Iain Richardson, immense in his first Camanachd final start.
For the second year in succession, Drew MacDonald fired the opener with a fine effort in nine minutes.
Substitute Jamie Robinson then conjured up a ferocious 30-yard drive four minutes into the second half.
When Glen Mackintosh slammed in an angled shot five minutes later it seemed all over but David Lafferty raised Oban hopes with an excellent snapshot.
Menzies made it 4-1 in 75 minutes with an emphatic finish and seven minutes later Michael Russell pounced on an error to set up Glen "Supermac" for his second.
In a boost for women's shinty, Christina Marshall, Kiltarlity, was on the line in referee Robert Baxter's team of officials.
Kinlochshiel won the MacMaster Under-14s Cup for the first time, beating Oban 7-1.